Muffuletta-Style Grilled Ham-and-Cheese Sandwiches
Rachael Ray's Hubby's Fave Sandwich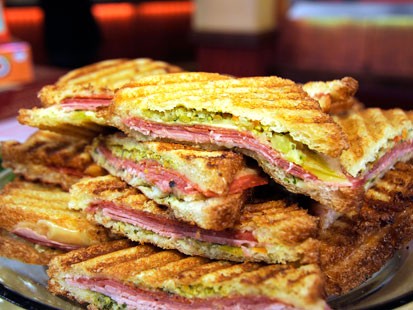 From the kitchen of Rachael Ray
|
They say the way to a man's heart is through his stomach. Rachael Ray shares a recipe that her husband enjoys.
Ingredients
1 cup giardiniera (Hot pickled vegetable salad), drained
1 cup packed baby arugula leaves
1/4 cup pitted green olives
8 slices pullman-style white bread
4 tablespoons butter, softened
8 thick slices provolone cheese
8 thin slices prosciutto cotto or boiled ham
8 thin slices hot soppressata
8 thin slices genoa salami
Cooking Directions
Using a food processor, grind the giardiniera, arugula and olives.
Coat 1 side of the bread slices with the butter. Build each sandwich as follows: a bread slice (buttered side out), giardiniera relish, a cheese slice, 2 prosciutto slices, 2 soppressata slices, 2 salami slices, another cheese slice, more relish and another bread slice (buttered side out).
Preheat a griddle or cast-iron skillet over medium heat. Add the sammies and cook, turning once, until the cheese melts, 6 to 8 minutes.
Courtesy EveryDay with Rachael Ray
Other Recipes That You Might Like