Potatoes with Dandelion Greens and Fried Eggs
Rachael Ray's Hubby's Fave Egg Dish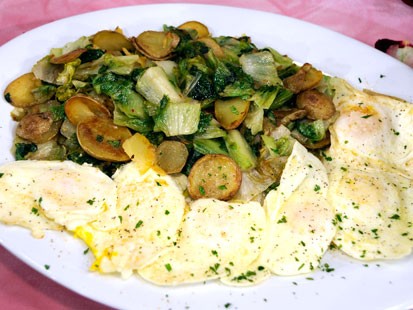 From the kitchen of Rachael Ray
|
They say the way to a man's heart is through his stomach. Rachael Ray shares a recipe that her husband enjoys.
Ingredients
3 tablespoons extra-virgin olive oil (EVOO)
8 flat anchovy fillets
4 baby yukon gold potatoes, very thinly sliced (think potato chips)
1/4 cup chopped flat-leaf parsley
4 cloves garlic, finely chopped
1/4 teaspoon crushed red pepper
Black pepper
1 bunch dandelion greens, stems discarded and leaves chopped
Freshly grated nutmeg
2 tablespoons butter
8 large eggs
Cooking Directions
In a medium skillet, heat the EVOO, 3 turns of the pan, over medium-low heat until hot.
Add the anchovies and cook until melted, 2 minutes.
Add the potatoes, parsley, garlic and crushed red pepper; spread evenly in the pan and season with black pepper. Cook, turning, until the potatoes are golden, about 10 minutes. Fold in the dandelion greens, season with nutmeg and cook over low heat, turning a few times, until softened, 7 to 8 minutes.
In a large nonstick skillet, melt 1 tablespoon butter over medium-low heat.
Crack in 4 eggs, season with black pepper, flip and cook to desired doneness, 3 to 7 minutes.
Repeat with the remaining 1 tablespoon butter and 4 eggs. Serve with the potatoes and greens.
Courtesy EveryDay with Rachael Ray
Other Recipes That You Might Like