Date Night Fondue
Romantic Dessert for Two, Served with Fruit and Bread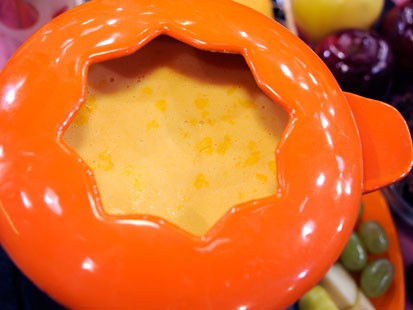 From the kitchen of Rachael Ray
|
Make Valentine's Day a fun night and whip up a fondue and sit and enjoy every bite with your sweetheart!
Ingredients
1 egg yolk
1 tablespoon all-purpose flour
2 tablespoons butter
2 teaspoons Dijon mustard
A few dashes hot sauce
1 cup milk
2 teaspoons Worcestershire sauce
1/2 pound shredded extra-sharp yellow cheddar cheese
Cooking Directions
Place the yolk in a mixing bowl and reserve.
Place a heat-safe fondue pot or a medium saucepot over medium.
Heat with the flour and butter, cook for a minute, then whisk in the Dijon, hot sauce and milk.
Right before the milk comes up to a simmer, turn the heat down to medium-low and add in the cheese, slowly stirring in figure-eight motion to melt.
Once all the cheese has melted, remove a ladleful of the hot cheese mixture and whisk it into the egg yolks to temper the yolks, then whisk the egg yolk mixture back into the hot cheese mixture.
Serve with a selection of breads and fruits.
Courtesy EveryDay with Rachael Ray
Other Recipes That You Might Like