Sautéed Chicken Breasts with Dijon Herb Sauce
Make This Romantic Chicken Dinner in Just 20 Minutes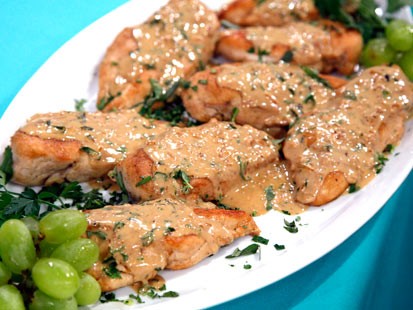 From the kitchen of Emeril Lagasse
|
Emeril calls this, "plate-lickin' good." Make this 20 minute chicken dish and see for yourself!
Ingredients
Four 6- to 8-ounce boneless, skinless chicken breasts
1 teaspoon salt
1/2 teaspoon freshly ground white pepper
2 tablespoons olive oil
2 tablespoons chopped shallot
1 cup dry white wine
1 tablespoon Dijon mustard
1/2 cup heavy cream
1 teaspoon chopped fresh tarragon
1 teaspoon chopped fresh parsley
Cooking Directions
Season the chicken on both sides with the salt and white pepper. Heat the olive oil in a 12-inch sauté pan over medium-high heat. Place the chicken in the pan, and cook until golden, about 4 minutes per side.
Increase the heat to high, add the shallot and white wine, and cook for 4 minutes. Remove the chicken and set it aside on a serving plate.
Whisk the mustard and heavy cream into the pan, and bring the sauce to a boil. Then reduce the heat to medium and simmer for 2 minutes, until thickened and bubbly.
Add the tarragon and parsley, and remove from the heat. Spoon the sauce over the chicken, and serve immediately.
Prep time: 6 minutes
Cook time: 14 minutes
Total: 20 minutes
Recipe courtesy Emeril Lagasse, from Emeril 20-40-60: Fresh Food Fast, Harper Studio Publisher, New York, 2009, courtesy MSLO, Inc.
Other Recipes That You Might Like