Oven-Crispy French Fries with Paprika-Parmesan Salt
Not Just for Burgers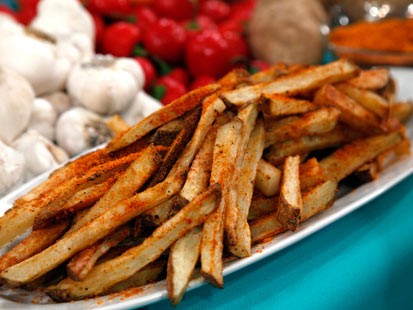 From the kitchen of Emeril Lagasse
|
You think fries, you think burgers. These fries are perfect with chicken, steak and salmon, too.
Ingredients
2 large baking potatoes (about 11/2 pounds), scrubbed well
1/4 cup olive oil
1 tablespoon Emeril's Original Essence (CLICK HERE for recipe) or Creole Seasoning (CLICK HERE for recipe)
3/4 teaspoon salt
1/4 cup finely grated Parmigiano-Reggiano cheese
1 tablespoon sweet paprika
1/2 teaspoon garlic powder
1/4 teaspoon onion powder
Cooking Directions
Preheat the oven to 425°F.
Pat the potatoes dry and cut them lengthwise into 1 /2-inch-thick slices. Turn each side flat and slice again lengthwise into even 1 /2-inch-thick fries.
Place the potatoes in a mixing bowl and add the olive oil, Essence, and 1 /4 teaspoon of the salt. Toss well to combine. Then transfer the fries to a large baking sheet and arrange them in one even layer so that they are not touching.
Roast, scraping the potatoes from the baking sheet with a metal spatula and turning them over halfway through, until golden brown and crispy, 30 minutes.
While the potatoes are cooking, combine the cheese, paprika, garlic powder, onion powder, and the remaining 1 /2 teaspoon salt in a small bowl and stir to blend.
When the potatoes are crisp and brown, remove them from the oven and transfer to a serving platter. Sprinkle the potatoes with the Paprika-Parmesan Salt, and serve hot.
4 to 6 servings
Prep time: 10 minutes
Cook time: 30 minutes
Total: 40 minutes
Recipe courtesy Emeril Lagasse, from Emeril 20-40-60: Fresh Food Fast, Harper Studio Publisher, New York, 2009, courtesy MSLO, Inc.
Other Recipes That You Might Like