Orange, Fennel, and Black Olive Salad
The Taste of a Classic Mediterranean Salad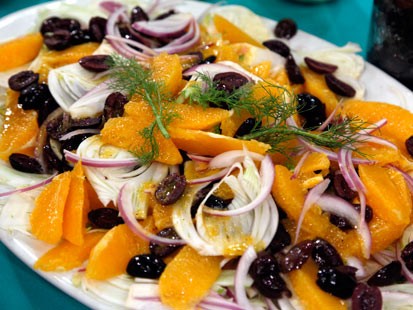 From the kitchen of Emeril Lagasse
|
This refreshing salad can be served as a side or a main course. It is bursting with the flavors of a classic Mediterranean salad.
Ingredients
2 cups freshly squeezed orange juice
2 medium fennel bulbs (7 ounces each)
1 large red onion (10 ounces)
1 1/2 cups pitted Kalamata olives, drained
6 large California navel oranges (12 ounces each)
1/2 teaspoon grated orange zest
2 tablespoons red wine vinegar
1 tablespoon minced shallot
1 teaspoon honey
1/4 cup extra-virgin olive oil, plus more for drizzling (optional)
Salt and freshly ground black Pepper
Cooking Directions
Place the orange juice in a small saucepan and bring to a boil. Continue to cook at a simmer until reduced in volume to about 1 /4 cup, about 17 minutes (be careful near the end of cooking, as this can easily burn if left unattended). Allow the reduced orange juice to cool to room temperature.
While the orange juice is reducing, trim off and discard the ends of the fennel bulbs, reserving a few fronds for garnish. Cut the fennel bulbs into thin crosswise slices, and place them in a salad bowl.
Cut the onion into thin julienne. Pit the olives and cut them in half. Add the onion and olives to the salad bowl.
Using a sharp knife, cut away the peels from the oranges, leaving no white pith. Holding them over a small bowl, segment the oranges, cutting in between the membranes to release each segment and letting them fall into the bowl. Refrigerate until you are ready to serve the salad.
Transfer the cooled reduced orange juice to a mixing bowl, and add the orange zest, red wine vinegar, shallot, and honey. Whisk thoroughly to combine.
Add the oil in a thin, steady stream, whisking all the time, until completely incorporated and emulsified. Season with salt and pepper to taste.
Arrange the orange segments over the fennel, red onion, and olives, and drizzle with the vinaigrette. Toss gently to combine.
Serve the salad garnished with some of the reserved fennel fronds, and drizzled with additional olive oil if desired.
Prep time: 13 minutes
Cook time: 17 minutes
Total: 20 minutes (prep and cook times overlap)
Recipe courtesy Emeril Lagasse, from Emeril 20-40-60: Fresh Food Fast, Harper Studio Publisher, New York, 2009, courtesy MSLO, Inc.
Other Recipes That You Might Like