On Nov. 9, 1989, thousands of East Germans rushed to the Berlin Wall, rebelling against decades of oppression, to destroy and cross this concrete barrier to freedom. It crumbled under their desire to see what was on the other side.
Immediately, tens of thousands of people from all over the world made their way to Berlin to see the openings in the wall for themselves, hacking off pieces as souvenirs. Two decades later, the demise of the wall and all it stood for holds different memories for different people.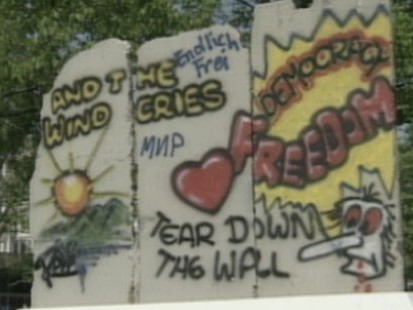 Fiona and Lance Bagley of Alpharetta, Ga., witnessed the historic moment as military officers in Berlin.
"It was a coming together of humanity. It was just amazing," said Lance Bagley.
The Bagleys longed for a souvenir of the milestone event. Armed with a sledgehammer, they headed with friends to an isolated part of the wall and took pieces down. The Bagleys toted wall chunks weighing up to several hundred pounds. They temporarily turned the wall pieces into a table and now keep the pieces in their garage -- refusing to sell it.
"The value is priceless because it represents our time in Berlin when we were young and engaged," Lance Bagley said. "But it also reminds us of the power and desire for people to be free."
Deborah Clark grew up in Berlin and graduated from the American High School in 1974. As a Cold War baby, whose father served as an American officer, the fall of wall left a lasting impression.
"I think as Americans everywhere, I don't think we could imagine overnight rolls of barbed wire going up in a city like New York and from one day to the next you were separated from your family," Clark said.
Years later she received a piece of the wall and now proudly displays it in the foyer of her home.
"It's the first thing I see in the morning and the last thing I see before I go to bed," Clark said. "When I look at my piece of the wall, I think of freedom and also a job well done on something that was finished."
Today the Berlin Wall has become a valuable cultural legacy with hundreds of pieces donated all around the world by both individuals and the city of Berlin. Pieces exist all over the world, from the Caribbean to Australia, placed in museums, schools and libraries as a reminder of Europe's former political and ideological divisions.