A typical American family with two young children spends an average of $14,000 a year on child care, which is almost a quarter of its annual income, according to the U.S. Census bureau.
In a recent national survey, 75 percent of families say in light of the current economic downturn, they're looking for ways to scrimp on child care.
Kara and Cliff Petty of Sunrise, Fla., spend at least $1,000 a month on day care and babysitters for their children, Aidan, 6, and Landon, 2.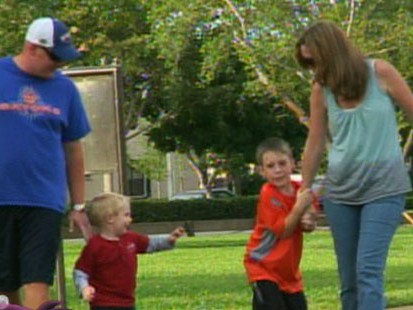 Like most families, child care is the Pettys' second-biggest monthly expense after their
home mortgage
. But they learned how to trim almost 20 percent off their monthly child care bills during the 30-day "Frugal Family Challenge" -- a "Good Morning America Weekend" partnership with USA Today.
Dave Moran, chairman of the Financial Planning Association of Miami, assessed the Pettys' child care expenses, and Sheila Marcelo, founder and CEO of Care.com, offered the following money-saving tips.
5 Money-Saving Tips:
1. Know Babysitter Rates in Your Area
Before you hire a babysitter, make sure you check the market rate.
At Care.com, we've seen a decline of about 10 percent in caregiver rates since last year.
Keep up-to-date on babysitter rates by visiting www.care.com/calculator..
2. Research Backup Caregiver Options
Keep a list of your favorite babysitters (or friends and relatives) to use if your regular caregiver is unavailable.
For backup care, check out www.care.com/oncall, which gives families access to last-minute child care. The service immediately text messages and e-mails your list of favorite babysitters and nannies whenever you are in a bind and need to find care fast.
3. Share Babysitters With Friends
Split the cost of a babysitter with another family.
Don't overload your babysitter, though, with too many children. Rule of thumb -- not more than three kids under age 6, four kids under age 12, or more than five of any age.
And what to pay? It should cost about $5 more per hour to add another child the same age. So a $12-an-hour babysitter goes up to $17. Split that with another family, and you're paying less than $9 an hour.
Tips For Cutting Child Care Costs
4. Formalize Care Exchange With Family
Care exchanges or swaps are great for setting up play dates and saving money.
Find a babysitting co-op on Care.com. Connect with other families eager to take turns watching each other's children for free!
Even if you only set up one day's worth of exchange each week, that can be a savings of 20 percent.
5. Check Local Community Child Care Resources
If you or your spouse recently was laid off, you may now qualify for child care assistance.
Visit your state's social service Web site or find your local child care resource and referral agency on childcareaware.org.