The idea seemed like fantasy 20 years ago: Take the brightest graduates from the best colleges and send them into America's neediest urban and rural classrooms.
But that fantasy has become reality, as the nonprofit program Teach For America has exploded in growth in recent years, drawing the top graduating seniors and sending them to teach in public school classrooms instead of jobs on Wall Street or the ivory tower.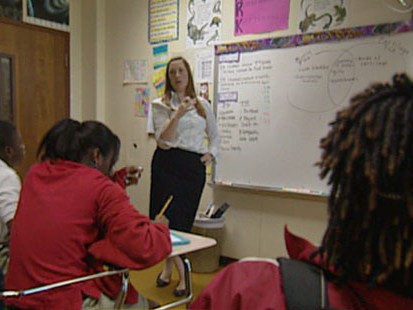 This week,
Teach For America
announced that it has accepted 4,100 new teachers for its incoming corp of teachers, a record number for the organization that is the now the top employer for graduates from Brown, Georgetown, Vanderbilt and a dozen others top schools.
In one of the worst job markets in decades, the organization received more than 35,000 applications from college seniors this year, making their selection process more selective than Ivy League colleges such as Harvard and Yale -- which both had 11 percent of their senior classes apply for teaching positions with the organization.
But is this experiment to put the best and brightest in the nation's struggling classrooms working? And why is such a noble idea so controversial?
Exceeding Expectations
Jackson, La., is one of those small towns with few people, and fewer opportunities. A prison and hospital provide the best jobs, and college is a dream fulfilled by about only 15 percent of students.
But at Jackson Middle School, change is in the air, as Teach For America corp members help transform the struggling southern Louisiana school.
"Since last year, we had students that didn't really care about anything," says eighth-grade honors student Tia Bell. "And this year, we have students that really care about their grades. And we have a principal that really cares."
That principal is Allison El Koubi, a 2000 graduate of Houghton College who has just finished her first year as principal of Jackson Middle School. She started at Jackson nine years ago as a Teach For America corp member, teaching eighth-grade English for six years and founding the school's library.
She briefly left Jackson to pursue a master's degree in education and spend a year training to become a principal, before returning to take over the head administrative post at the school last fall. El Koubi, whose mother was a public school teacher, never had any intention of entering the teaching profession.
"I thought about getting a PhD in French Literature. And had thought about being a nanny in France a couple years after college," El Koubi says of her post-graduation plans.
Instead, she signed on with Teach For America and accepted a two-year stint as a teacher in rural Louisiana. Nine years later, she's still here, now a principal, doling out lunch line hot sauce and keeping an eye on student dress code in the cafeteria and hallways.
She has also helped propel the school and its students to some of the best state test results the school has seen in years, along with the help of five Teach For America teachers who make up a third of her small staff.
"You totally exceeded all our expectations," El Koubi told the school's sixth-grade students last week, while going over results showing dramatic increases in test scores in all subject areas.
The Best and the Brightest
El Koubi's success at Jackson is exactly what Teach For America founder Wendy Kopp imagined as a Princeton senior 20 years ago.
"I had been very focused on this issue of educational inequity," Kopp said of her college studies. "And one day just thought, why aren't we being recruited as aggressively to teach in our country's highest poverty communities as we were being recruited to work on Wall Street?"
In her senior thesis, she proposed the idea of a national teaching corp that places top college graduates at needy schools. Kopp used that proposal as a blueprint to launch Teach For America just one year later.
Today, she goes after Ivy Leaguers and wealthy donors with equal passion and grim statistics, citing that of the 13 million American children living in poverty, half will drop out before graduating from high school and the other half will graduate high school with eighth-grade skills.
And Kopp sees the struggling economy as an opportunity to attract more young minds into the education field to help reverse disparities for schools with fewer resources.
"In our work, talent is the most precious resource of all," Kopp says. Today we have such an opportunity to take a crisis in our economy and find the silver lining, marshal all this talent against the problem that in fact is the key to our long-term economic strength."
"Teach for Awhile"
The grim state of public education has led plenty of desperate school districts to embrace the young, idealistic reformers provided to their classroom by Teach For America. The organization receives strong support in hundreds of schools across the country, especially in places like the Mississippi Delta and southern Louisiana, where teacher recruitment and high turnover are constant battles -- especially in subject areas like science and math.
But teachers' unions in districts from Detroit to Boston have shown opposition to Teach For America's presence this year, criticizing the organization as taking away the jobs of trained professionals facing severe cutbacks in a struggling economy.
These critics say TFA should be short for "Teach For Awhile," calling the program a way for do-gooders of privilege to pad resumes before moving on to more lucrative careers, while taking spots from certified professionals.
"We don't need any educational mercenaries coming in on their white horses for a couple of years and lending their expertise in subject matter, and not being committed to the general cause of long-term educational reform and improvement," says Keith Johnson, president of the Detroit Federation of Teachers.
TFA corps members are paid a starting teacher's salary after just five weeks of training the summer before they enter the classroom. They are not required to receive certification, but some corp members do through alternative certification programs over the course of their two-year commitment.
Boots on the Ground
Laura Shoemaker graduated with a biology degree from Georgetown two years ago -- and now teaches eighth-grade science in Jackson. She disputes the criticisms of Teach For America members, saying she and fellow corp members have had an immediate impact on the school and its students.
"Teach for America teachers are effective," Shoemaker says. "Last year with my seventh-graders in my first year of teaching, they had the biggest growth of any subject of any grade in the middle school."
While data measuring the success of Teach For America teachers is limited, the organization cites a recent study by the Urban Institute showing that TFA teachers in North Carolina high schools helped their students outperform their peers taught by certified, veteran teachers.
While Shoemaker is off to medical school next year, she's decided to stay in the area, attending LSU so she can be near her students. And two of her fellow corps members are staying at Jackson for a third and fourth year of teaching, both unsure if and when they will leave the teaching field.
It's a story playing out in other classrooms. Teach For America says its internal surveys and tracking show that two-thirds of its 14,000 alumni ultimately stay in the education field in some form, whether in the classroom, as administrators or graduate level or policy work in the field.
"The conversation has completely changed from people believing there was absolutely no way to provide an excellent education for kids growing up in poverty to people who know it actually can be done," Kopp says.