Alex Guarnaschelli's Brie Cheese and Paprika Sandwiches
A Cheesy New Year's Favorite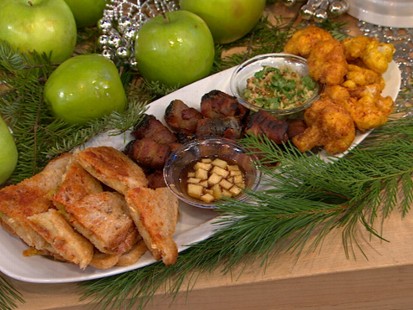 The newest Iron Chef champion shares some recipes to help ring in the new year.
From the kitchen of Alex Guarnaschelli
|
Ingredients
3-4 tablespoons unsalted butter
1 medium leek, dark green top removed, quartered lengthwise, minced, thoroughly washed and dried
Medium coarse sea salt
½ teaspoon paprika
8 large slices Sourdough bread, each ¼ inch thick
16 ounces Brie cheese, cut into 16 slices
Cooking Directions
In a medium skillet, melt 1 tablespoon of the butter and add the leeks. Season with salt. Cook, over low heat, stirring with frequency, until the leeks become tender, 3-4 minutes. Taste for seasoning. Transfer to a baking sheet and refrigerate to cool slightly.
Place 4 slices of the bread on a flat surface and arrange 4 slices of cheese in a single layer on each slice of bread. Sprinkle with sea salt and use a small strainer to "sift" an even layer of paprika over the cheese. Top the cheese with the cooked leeks and place the other four slices of bread on top to make 4 sandwiches. Press down gently on each sandwich so the cheese and leeks are more firmly encased in the bread.
Heat a large skillet. Add 2 tablespoons of the butter and place the sandwiches in a single layer in the skillet. Increase the heat and cook them on one side until brown 5-8 minutes. Turn on the other and cook until brown, 3-5 minutes. Note: Use the remaining tablespoon of butter for browning if the sandwiches seem dry and need that additional moisture. Transfer to a flat surface and cut each one in half. Season lightly with salt. Arrange them on a serving platter with the soup in a large bowl or ladle the soup into individual bowls and serve with the sandwich halves on the side for immediate dunking.
Recipe courtesy Alex Guarnaschelli.
This recipe was styled by chef Karen Pickus for Good Morning America.
Other Recipes That You Might Like