Alton Brown's Cornish Game Hen with Spinach
Try This Delicious Meal Tonight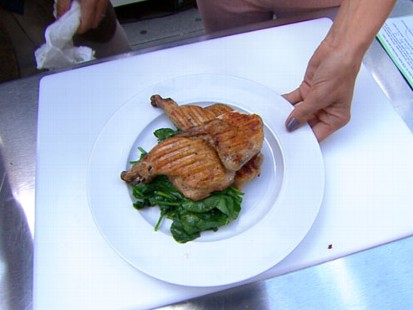 Star of Food Network's "Good Eats" on how to prepare fancy meals in a snap.
From the kitchen of Alton Brown
|
Try this family dinner that can be made entirely on a panini press.
Alton Brown's new cookbook, "Good Eats 3: The Later Years" can be puchased here.
Ingredients
1 Cornish game hen, approximately 1 1/4-1 3/4 pound
1 teaspoon kosher salt
1/2 teaspoon freshly ground black pepper
Non-stick cooking spray
1 (9 ounce) bag baby spinach
Cooking Directions
Preheat a pannini press on high.
Place the game hen breast side down on a cutting board. Using scissors or poultry shears, cut from the neck to the tailbone to remove the backbone. Once you remove the backbone you will be able to see the inside of the bird. Make a small slit in the cartilage at the base of the breastbone to reveal the keel bone. Grab the bird with both hands on the ribs and open up like a book, facing down towards the cutting board. Remove the keel bone. Cut small slits in the skin of the bird behind the legs and tuck the drumsticks into them in order to hold them in place. Season on both sides with salt and pepper.
Spray the bottom of the pannini press with the non-stick cooking spray. Place the bird, skin side up onto the press, pray the skin side with non-stick cooking spray and close the lid. Top the press with a 10-pound weight and cook for 8-10 minutes or until the skin is golden brown. Remove from pannini press to a plate and rest 3 minutes before serving.
While the hen is resting, place a handful of spinach at a time, onto the pannini press, close the lid and cook for 30 to 45 seconds. Serve immediately with the hen.
This recipe was styled by chef Karen Pickus for Good Morning America.
Recipe courtesy of Alton Brown.
Other Recipes That You Might Like