Alton Brown's Tequila Sunrise
A Sunny Drink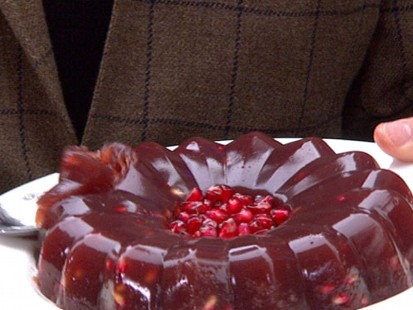 The famous chef puts a twist on classic recipes using pomegranate.
From the kitchen of Alton Brown
|
This recipe can be made without the alcohol for a non-alcoholic version. The homemade pomegranate syrup tastes great with the orange juice.
Ingredients
Ice
1 1/2 ounces tequila
Freshly squeezed orange juice
1/2 ounce homemade pomegranate syrup
For the syrup:
4 cups pomegranate juice
1/2 cup sugar
1 tablespoon freshly squeezed lemon juice
Cooking Directions
Fill a Collins or highball glass with ice. Add the tequila. Add enough orange juice to come almost to the top of the glass; the amount will vary depending on the size of the glass. Gently pour the pomegranate syrup into the glass and serve. Do not stir.
For Syrup:
Place the pomegranate juice, sugar and lemon juice in a 4-quart saucepan set over medium heat. Cook, stirring occasionally, until the sugar has completely dissolved. Once the sugar has dissolved, reduce the heat to medium-low and cook until the mixture has reduced to 1 1/2 cups, approximately 50 minutes. It should be the consistency of syrup. Remove from the heat and allow to cool in the saucepan for 30 minutes. Transfer to a glass jar and allow to cool completely before covering and storing in the refrigerator for up to 6 months.
This recipe was styled by chef Karen Pickus for Good Morning America.
Recipe courtesy Alton Brown.
Other Recipes That You Might Like