Amy Green's No Bake Crunchy Chocolate Peanut Butter Bars
Chocolate and Peanut Butter Without the Guilt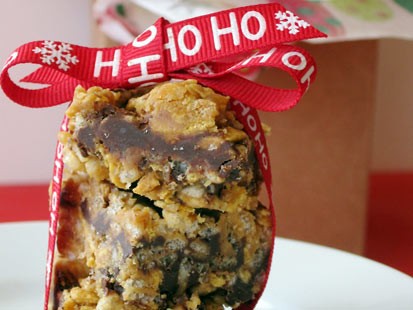 From the kitchen of Amy Green
|
These fun and simple-to-make holiday cookies are perfect additions to your cookie tin. Using a combination of carob and unsweetened baking chocolate with a little vanilla tempers the carob flavor and makes them more chocolatey. If you don't have carob, use chocolate chips. I haven't found any chocolate chips without white sugar, which is why I use unsweetened carob.
Amy Green is the founder of the site Simply Sugar & Gluten-Free.
Ingredients
For the chocolate filling:
2 tablespoons organic non-hydrogenated vegetable shortening
7 ounces unsweetened carob
1 ounce unsweetened baking chocolate, chopped
3/4 teaspoon alcohol free vanilla extract
For the crunchy cookies:
2 1/2 cups gluten-free corn flakes, lightly crushed
2 1/2 cups gluten-free puffed rice cereal
3/4 cup smooth, sugar-free peanut butter
1/4 cup agave nectar
1/4 cup coconut palm sugar
1 1/2 tablespoons unsalted butter
Cooking Directions
Line a 9×13 pan with aluminum foil or parchment paper and let the edges hang over the side. Lightly mist with cooking spray.
Put the shortening in the bottom of a glass or stainless steel bowl that will fit snugly on top of a saucepan or in the top of a double boiler. Top with carob and chopped baking chocolate. Bring an inch of water to boil, place the bowl on top of the pot, and turn it off. Let it sit until the shortening, carob, and chocolate start to melt, stirring occasionally.
Meanwhile, put the cornflakes and rice cereal in a large bowl. Add the peanut butter, agave, palm sugar, and butter to a heavy bottomed sauce pan. Bring to a boil for one minute, stirring. Pour hot peanut butter mixture over cornflakes & rice and stir until coated.
Press half of the cornflake mixture into the bottom of the pan. Spread with melted carob & chocolate. Top with remaining cornflake mixture, pressing the cornflakes into the carob & chocolate. Cover and refrigerate until set, about an hour. Cut into desired size with a sharp serrated knife.
Recipe courtesy Amy Green.
Other Recipes That You Might Like