Amy Green's Fig and Date Bars
Treat Yourself to Amy's Healthy Fig Newtons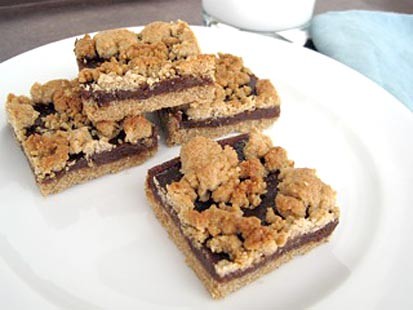 From the kitchen of Amy Green
|
"My recipe testers unanimously said that these taste like Fig Newtons. They're great cookie bars for kids and grown-ups alike. the crust on these cookies melts in your mouth," says Amy Green.
Ingredients
1/2 c pitted Medjool dates
1/2 cup dried black Mission figs, stemmed and cut in half
1/2 c walnuts
1 cup sorghum flour
1/2 t ground cinnamon
1/4 t baking soda
1/2 t xanthan gum
pinch of kosher salt
1/4 cup cold butter, diced
2 T honey or agave nectar
1 t freshly squeezed orange juice
Cooking Directions
Preheat the oven to 375 degrees. Lightly mist an 8x8-inch baking pan with cooking spray.
In a medium heatproof bowl, cover the date and figs with hot water. Set aside. Or, cover the date and dried figs with water and microwave.
In a food processor fitted with a steel blade, chop the walnuts until they are in small pieces but not mealy. Add the sorghum flour, cinnamon, baking soda, xanthan gum and kosher salt. Process for 30 seconds, or until the mixture is combined and the walnuts are a little finer. Sprinkle the butter evenly across the walnut mixture and drizzle in the honey or agave. Pulse until a dough forms. Turn the dough out into a large bowl.
Using a slotted spoon, transfer the dates and figs to the food processor, reserving the soaking liquid; there's no need to wash the processor bowl. Add 1/4 cup of the soaking liquid, the orange zest, and the orange juice. Let process for several minutes, until smooth.
While the food processor is running, use wet hands to firmly press two-thirds of the dough into the bottom of the prepare pan. Once the date and fig mixture is smooth, spread it evenly across the dough. Break the remaining dough into marble-sized pieces, sprinkle them across the fig and date paste, and lightly press in.
Bake for 15 to 18 minutes, rotating the pan 180 degrees halfway through, until the top becomes lightly golden brown. Let cool completely on a wire rack. Cover and store in the refridgerator. These also freeze well.
Quick Tip: Always zest your citrus fruit before juicing.
For more sugar-free, gluten-free recipe check out Amy's new cookbook Simply Sugar & Gluten-Free and her website.
Other Recipes That You Might Like