Amy Green's Fudge Brownies
Indulge in These Fudgey, Delicious Brownies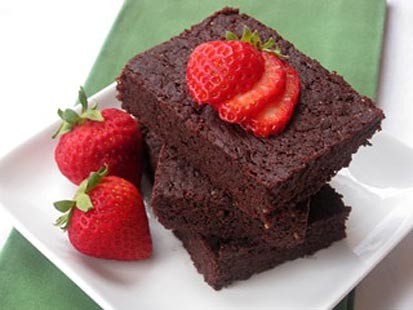 From the kitchen of Amy Green
|
"These brownies are cakey, with a fudgey, melt-in-your-mouth bite, and are a littler healthier than most. Instead of tons of butter and chocolate, I used applesauce and cocoa powder. The best part is that the texture and taste feels like full-fat." Amy Green
Ingredients
For the flour blend:
4 c garbanzo-fava bean flour
4 c sorghum flour
2 c potato starch
1 1/3 tapioca starch
For the brownies:
1/4 c unslated butter
1 ounce unsweetened baking chocolate
1/2 c unsweetened applesauce
3/4 c palm sugar
1 t vanilla extract
1 large egg
2 large egg whites
1/4 t kosher salt
1/2 c Basic Flour Blend
1/2 c cocoa powder
Cooking Directions
For the flour mix:
Mix well and store in an airtight container, preferable in the refrigerator.
For the brownies:
Preheat the oven to 350 degrees. Lightly mist an 8x8-inch baking dish with cooking spray.
In a microwave safe bowl, microwave the butter and chocolate for 1 minute, stir, then microwave for another 30 seconds if necessary. Stir to melt completely. Set aside.
In a large bowl, beat the applesauce, palm sugar, vanilla, egg, egg whites, and salt with an electric mixer on medium speed until combined. Stir in the melted chocolate and butter.
In a medium bowl, sift the flour blend and cocoa powder. Whisk until evenly combined. Fold the dry ingredients into the wet. Turn the brownie batter into the prepared pan. Bake for 18 to 20 minutes, until a toothpick inserted into the center comes out clean and the brownies pull away lightly from the edge of the pan. Cook on a wire rack. Cover and store at room temperature. These also freeze well.
Quick Tip: When separating egg yolks and whites, crack the egg on the counter, not on the edge of the bowl that you're mixing in. This will avoid getting small pieces of shell into your bowl. Gently pull the two shells apart and transfer the yolk back and forth between the two halves of the shell, letting the white fall below into a bowl.
For more sugar-free, gluten-free recipe check out Amy's new cookbook Simply Sugar & Gluten-Free and her website.
Other Recipes That You Might Like