Amy Green's Gluten-Free Chocolate Mint Brownies
These Brownies Taste Like Peppermint Patties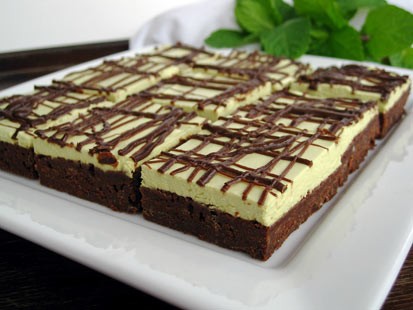 From the kitchen of Amy Green
|
These gluten-free holiday brownies couldn't be easier to make and they're even healthier than most. My mom made chocolate mint brownies for her Christmas cookie tins every year. They were one of my favorites. Her version wasn't gluten-free or refined sugar-free but they were delicious. My version tastes just like I remember from my childhood…they're fudgy, minty, and the carob drizzled on top adds a little crunchy textural contrast.
I use unsweetened carob chips for the drizzle because they have a natural sweetness and are free of refined sugars. If you can't find carob, substitute your favorite chocolate chip.
Amy Green is the founder of the site Simply Sugar & Gluten-Free.
Ingredients
For the Brownies:
1/4 cup unsalted butter
1 ounce unsweetened baking chocolate
1/2 cup unsweetened applesauce
3/4 cup palm sugar
1 teaspoon vanilla extract
1 large egg
2 large egg whites
1/4 teaspoon kosher salt
1/2 cup Basic Flour Blend
1/2 cup cocoa powder
For the Mint Topping:
4 ounces light (Neufchatel) cream cheese, at room temperature
1 tablespoon agave nectar or honey
1/2 teaspoons vanilla extract
pinch of salt
1/2 cup cold heavy cream
1/4 teaspoon mint extract Blue & Yellow Natural Food Coloring
For the Carob Drizzle:
1/4 cup unsweetened carob chips 1 teaspoon non-hydrogenated shortening
For the basic flour blend:
1 cup sorghum flour
1 cup garbanzo fava bean flour
1/2 cup potato starch
1/3 cup tapioca starch
Cooking Directions
Preheat the oven to 350F. Lightly mist an 8 x 8-inch baking dish with cooking spray.
In a microwave-safe bowl, microwave the butter and chocolate for 1 minute, stir, then microwave for another 30 seconds if necessary. Stir to melt completely. Set aside.
In a large bowl, beat the applesauce, palm sugar, vanilla, egg, egg whites, and salt with an electric mixer on medium speed until combined. Stir in the melted chocolate and butter.
In a medium bowl, sift the flour blend and cocoa powder. Whisk until evenly combined. Fold the dry ingredients into the wet. Turn the brownie batter into the prepared pan. Bake for 18 to 20 minutes, until a toothpick inserted into the center comes out clean and the brownies pull away slightly from the edge of the pan. Cool on a wire rack. Do not add frosting until completely cool. If desired, refrigerate overnight before frosting.
Make the Cream Cheese Frosting:
Whip Neufchatel cheese, vanilla, agave, and salt with electric mixer until smooth and light. Add the mint extract and drops of blue and yellow food coloring to cream cheese. Make the green color a little more intense than desired as the color lightens when you add the whipped cream.
In a separate bowl, whip heavy cream until stiff peaks form. Stir ¼ of whipped cream into the cream cheese mixture. Gently fold remaining whipped cream into Neufchatel cheese mixture until combined. Spread the minty green frosting in an even layer across the cooled brownies.
Make the Carob Drizzle:
Put the carob chips and the non-hydrogenated shortening in a small, microwavable bowl. Microwave for 20 seconds, stir, and then microwave another 10 – 15 seconds and stir until melted. Put the melted carob into a ziploc bag and snip a very small corner off. Drizzle the melted carob back and forth over the top of the brownies. Cover and chill until the carob is firm. Cut into (2 x 2) inch squares and serve.
For the basic flour blend:
Mix well; store in an airtight container in the refrigerator.
Recipe courtesy Amy Green.
Other Recipes That You Might Like