Amy Green's Gluten-Free Pumpkin Pie
Try This Healthy Pumpkin Pie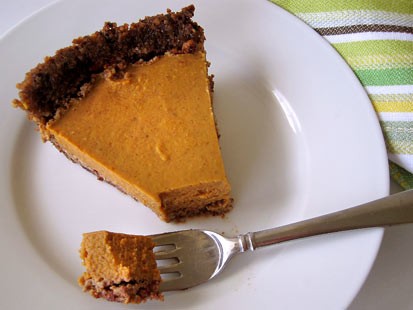 From the kitchen of Amy Green
|
I love pumpkin. Each fall I roast pounds and pounds of sugar pumpkins, puree them, and store the gorgeous orange flesh in the freezer so I can eat it all year long. I actually like it right out of the jar topped with Greek yogurt, stevia, and cinnamon. The holidays give me an excuse to make this pie, and the pecan crust gives it a rustic feel.
Recipe courtesy of Amy Green of "Simple Sugar & Gluten-Free"
Ingredients
1 3/4 cups pumpkin puree (about one 15-ounce can)
1/2 cup low-fat milk
1/2 cup half-and-half
2 large eggs
1 teaspoon vanilla extract
1 teaspoon ground cinnamon
1/2 teaspoon freshly ground nutmeg
1/2 teaspoon ground allspice
1/4 teaspoon liquid stevia
1/4 teaspoon salt
1 (9-inch) Pecan Pie Crust, baked
For the pecan pie crust:
2 cups pecans or walnuts
3 large pitted Medjool dates
2 tablespoons unsalted butter, melted
pinch of salt
Cooking Directions
For the crust:
Preheat the oven to 350F. Spray an 8- or 9-inch tart pan or pie pan with cooking spray.
In the bowl of a food processor, pulse the pecans and dates until finely chopped. Add the melted butter and process until a dough forms. Press the dough into the prepared pan. Bake for 10 to 15 minutes, until light golden brown. The crust will puff slightly. Let the crust cool completely before filling.
For the filling:
Preheat the oven to 375F.
In a large bowl, whisk together the pumpkin puree, milk, half-and-half, eggs, vanilla, cinnamon, nutmeg, allspice, stevia, and salt. Pour into the baked pie crust. Cover the edges of the crust with aluminum foil to prevent them from over-browning.
Place the pie on a baking sheet and bake for 50 minutes, or until the filling has slightly puffed and set in the center. If you want the crust a bit browner, remove the foil during the last 5 to 10 minutes of baking.
Let cool before slicing. Store covered in the refrigerator.
Recipe courtesy of Amy Green of "Simple Sugar & Gluten-Free"
Other Recipes That You Might Like