Buddy Valastro's Asian Pork Sliders
Perfect For Tailgating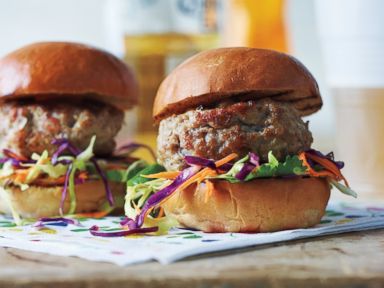 From the kitchen of Buddy Valastro
|
It's no secret that Cake Boss Buddy Valastro is a sweets expert, but in his new book, "Family Celebrations with the Cake Boss," he proves he knows a thing or two about savory food too. Check out Buddy's recipe for Asian pork sliders below.
Ingredients
1 pound ground pork
1 tablespoon soy sauce
2 tablespoons minced red onion
?? teaspoon finely grated fresh ginger
8 slider buns or mini potato rolls
Tri-Colore Asian Slaw (recipe below)
Cooking Directions
Preheat a grill to medium heat.
Put the pork, soy sauce, red onion, and ginger in a large bowl and stir together to incorporate. Form 8 patties, using 3 to 4 tablespoons of pork mixture in each one and shaping them ??-inch thick. Be sure not to overwork or overhandle the mixture.
Grill the burgers over direct heat, turning once, until fully cooked through, 5 to 7 minutes per side.
Toward the end of the sliders' grilling time, grill the buns: Slice them in half if necessary, then grill the cut sides until lightly marked and lightly toasted, about 1 minute.
Let the sliders rest on a platter or cutting board for 5 minutes after grilling, then set 1 slider in each bun and top with Tri-Colore Asian Slaw (recipe below). Serve.
Tri-Colore Asian Slaw
6 cups (one 14-ounce bag) cole slaw mix with carrot
3 tablespoons freshly squeezed lime juice
3 tablespoons olive oil
2 tablespoons mayonnaise
?? teaspoon kosher salt
?? teaspoons granulated sugar
1 jalape??o pepper, seeded if desired, then thinly sliced
?? cup fresh cilantro leaves, roughly torn
Put all ingredients in a bowl and toss well. Let the slaw sit at least 15 minutes before serving.
Visit BuddyOnTour.com to learn more about how you can see him make this dish in person!
This recipe was styled by chef Karen Pickus for Good Morning America.
Recipe reprinted with permission of Buddy Valastro.
Other Recipes That You Might Like