Duck Dynasty Aunt Judy's Cranberry Salad
Reality Family Recipe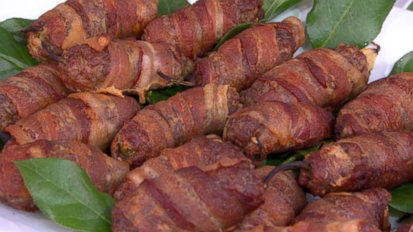 The cast of the hit show share treats from the new cookbook "Miss Kay's Duck Commander Kitchen."
From the kitchen of Duck Dynasty
|
America's favorite reality TV family, the Robertson's of Duck Dynasty, stopped by "Good Morning America" to share their go-to recipes from Miss Kay's cookbook, "Miss Kay's Duck Commander Kitchen" to make in their home. Try her recipe for Aunt Judy's Cranberry Salad here.
Ingredients
1 bag (12 ounces) fresh or frozen cranberries (about 3 cups), rinsed and dried
1 cup sugar
1 can (20 ounces) crushed pineapple, drained
2 cups miniature marshmallows
1 container (16 ounces) whipped topping (I use Cool Whip)
1 cup chopped pecans
Cooking Directions
In a food processor, pulse the cranberries and sugar together until coarsely chopped. Transfer to a container with a cover and refrigerate overnight. (If you don't have a processor, use a mallet or fork to crush the cranberries.)
The next morning, put the cranberries in a colander and drain off the juice. Transfer the cranberries to a large mixing or serving bowl and add the pineapple, marshmallows, whipped topping, and pecans and mix well. Refrigerate until you're ready to serve.
Recipes courtesy "Miss Kay's Duck Commander Kitchen"
Recipes styled by Karen Picks for "Good Morning America."
Other Recipes That You Might Like