Home
>
GMA
>
Recipes Home
>
Wolfgang Puck's Barbecued Chicken with Sweet-and-Spicy Barbecue Sauce and Mashed Grilled Vegetables
Wolfgang Puck's Barbecued Chicken with Sweet-and-Spicy Barbecue Sauce and Mashed Grilled Vegetables
Lighten Up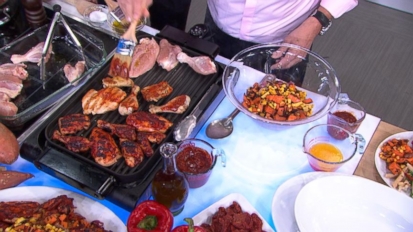 The famed chef "Makes It Healthy" in his first cookbook in 10 years.
From the kitchen of Wolfgang Puck
|
Wolfgang Puck, arguably the country's first celebrity chef, has built an empire on his brand of cooking that blends Californian and European cuisines. Now, he's lightening up some American favorites in his new book "Wolfgang Puck Makes It Healthy," and we've got his recipe for Barbecued Chicken with Sweet-and-Spicy Barbecue Sauce and Mashed Grilled Vegetables below.
Ingredients
Sweet-and-Spicy Barbecue Sauce:
3 tablespoons peanut oil or vegetable oil
1 red onion, coarsely chopped
1 red bell pepper, stemmed, seeded, deveined, and coarsely chopped
1 cup fresh pineapple chunks
3 small fresh hot red or green chiles, stemmed, seeded, deveined, and minced
1 cup plus 3 tablespoons tomato ketchup
2/3 cup red wine vinegar
1/3 cup tomato paste
1/2 cup packed dark brown sugar
1/4 cup low-sodium soy sauce
1/2 tablespoon kosher salt
1 teaspoon ground coriander
1 teaspoon ground cinnamon
Barbecued Chicken:
1 whole chicken, cut into 8 pieces, breasts and thighs boned, drumsticks and wings left bone-in, skin removed from all pieces
Extra-virgin olive oil, for brushing
Kosher salt
Freshly ground black pepper
Mashed Grilled Vegetables:
2 orange-fleshed sweet potatoes, trimmed, cut diagonally into 1/2-inch-thick slices, and parboiled in boiling water to cover until barely tender, drained thoroughly
4 ears corn, parboiled in boiling water until barely tender, drained thoroughly
2 large sweet yellow or red onions, cut into 1/2-inch-thick slices
Extra-virgin olive oil, for brushing
1/2 cup fresh orange juice
Kosher salt
Freshly ground black pepper
Cooking Directions
Prepare the Sweet-and-Spicy Barbecue Sauce:
In a large saucepan, heat the peanut oil or vegetable oil over medium high heat. Add the onion, red bell pepper, pineapple, and chiles and sauté, stirring occasionally, until tender and golden brown, about 15 minutes. Stir in the ketchup, vinegar, tomato paste, sugar, soy sauce, salt, coriander, and cinnamon. Bring to a boil, reduce the heat to low and simmer, stirring occasionally, for 20 minutes. In a food processor or a blender, taking care to follow the manufacturer's instructions to avoid spattering, puree the sauce, working in batches if necessary and transferring the pureed batches to a nonreactive bowl. Set aside. If you make the sauce ahead, let it cool to room temperature before covering and refrigerating.
Prepare the Barbecued Chicken:
Preheat a charcoal or gas grill, arranging one part of the fire for direct-heat cooking, the other part for indirect-heat cooking. Very lightly brush the chicken pieces all over with oil and season with salt and pepper. Put the pieces directly over the hottest part of the fire and cook until evenly seared a deep golden color, about 3 minutes per side. Then, with long grilling tongs, move the pieces to the cooler part of the grill not directly over the heat. With a grill basting brush, baste the pieces generously on both sides with some of the sauce. Cover the grill and cook until the chicken registers 165°F on a grilling thermometer inserted into the thickest part of the meat, 7 to 10 minutes per side. (Dark meat will take a few minutes longer than white meat.) As the chicken pieces are done, transfer them to a heated platter and cover with aluminum foil.
Meanwhile, prepare the Mashed Grilled Vegetables:
During the last 6 minutes or so of cooking the chicken, very lightly brush the sweet potato, corn, and onion with oil. Arrange the vegetables over the hotter part of the cooking surface and grill until evenly browned, turning occasionally, about 6 minutes total. While the chicken and vegetables are cooking, gently warm the remaining barbecue sauce. (Discard any sauce that has touched the basting brush to avoid cross-contamination.) Remove the vegetables from the grill, transferring the corn and onions to a cutting board and the sweet potatoes to a bowl. Cover the bowl to keep the sweet potatoes warm. Using a paper towel to protect your hand, steady one end of an ear of corn on the cutting board and use a sharp knife to cut off the kernels several rows at a time, carefully cutting downward from one end to the other parallel to the cob. Transfer the kernels to another bowl. Coarsely chop the onion slices and add them to the corn. Add the orange juice to the sweet potatoes, along with ½ cup of the warmed barbecue sauce. Use a fork to mash the sweet potatoes into very coarse chunks. Stir in the corn kernels and chopped onions and season to taste with salt and pepper.
To serve:
Mound the mashed vegetables on a serving platter or individual plates. Arrange the chicken pieces around the vegetable mixture. Transfer the remaining warmed sauce to a sauceboat to pass at the table.
Recipes from WOLFGANG PUCK MAKES IT HEALTHY. Copyright © 2014 by Wolfgang Puck Worldwide, Inc. Used with permission by Grand Central Publishing. All rights reserved.
This recipe was styled by Karen Pickus for Good Morning America.
Other Recipes That You Might Like