Beth Leonard's Reverse Chocolate Chip Cookies
A Decadent Holiday Cookie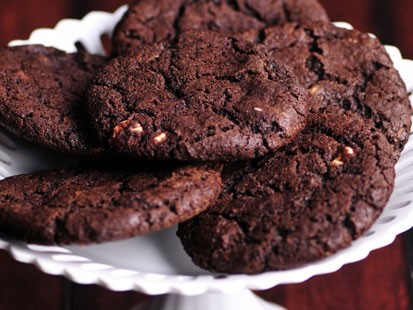 From the kitchen of Beth Leonard
|
The combination of white chocolate chips and nuts makes this decadent cookie a big hit. The slight addition of ground coriander gives these cookies unexpected flavor. This recipe is courtesy of Beth Leonard of Stew Leonard's.
Ingredients
1 stick of softened butter
1 cup firmly packed dark-brown sugar
1 teaspoon vanilla extract
1 large egg
1 cup all-purpose flour
1/3 cup cocoa powder
1 teaspoon salt
1/2 teaspoon baking powder
1 tablespoon ground coriander
1 cup of macadamia nuts, sliced almonds, walnuts, or other nuts
1 1/2 cups of white chocolate chips
Cooking Directions
Preheat oven to 375 degrees.
Grease two cookie sheets.
In a bowl, cream the butter with an electric mixer. Beat in the sugar a little at a time until the mixture is lightened. Add the vanilla, then beat in the egg. With the mixer set to low, stir in the flour, cocoa powder, salt, baking powder, and coriander. Then stir in the nuts and chocolate chips.
Form the cookies by scooping up 1/3 cup of the batter and dropping it on the greased cookie sheet. Repeat, making rows of cookies roughly 3 inches apart. Bake the cookies on the middle rack of the oven for 12 to 15 minutes, or until lightly browned.
Recipe courtesy Stew Leonard's.
Other Recipes That You Might Like