Bethenny Frankel's Asian Shrimp Salad
Elegant, Filling Entree or Side Salad to Impress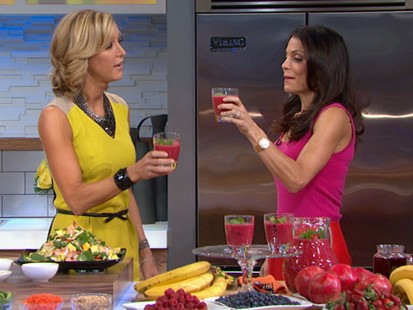 Reality star, author of "A Place of Yes," shares delicious ideas to stay thin.
From the kitchen of Bethenny Frankel
|
This filling entree salad makes an excellent lunch as well as an elegant side salad when you have dinner guests. If you have precooked and deveined shrimp or leftover shrimp from dinner the night before, it just takes minutes to prepare. -- Bethenny Frankel
Ingredients
For the Asian Shrimp Salad:
8 ounce bag pre-washed baby spinach leaves
1 medium head Napa cabbage, shredded
1 pound sugar snap pea pods, halved
1 can drained sliced water chestnuts
1 small bag shredded carrots
1 pound chilled shrimp split in half lengthwise (16 to 20 count)
1 bunch chopped scallions-only the green parts
4 ounces sliced toasted almonds (toast them in a skillet over medium heat, stirring constantly, for about five minutes)
For the Asian Dressing:
2 teaspoons fresh grated ginger
4 teaspoons dark sesame oil
1/4 cup rice vinegar
4 teaspoons soy sauce
2 teaspoons Dijon mustard
2 teaspoons minced garlic
6 Tablespoons extra-virgin olive oil
Cooking Directions
For the dressing, whisk all of the ingredients together in a bowl.
Toss all ingredients for the salad together and serve with dressing.
Serves 8 as an entre, 12 as a side salad
Courtesy of The Skinnygirl Dish by Bethenny Frankel with Eve Adamson
This recipe was styled by chef Karen Pickus for Good Morning America.
Other Recipes That You Might Like