Emeril's Brown Sugar-Baked Bologna
A Retro Dish From Celeb Chef's Childhood Gets a Modern Update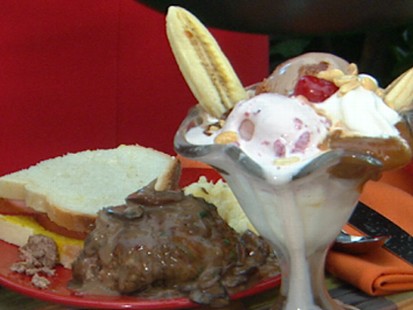 The world-famous chef offers a modern take on some of his favorite retro dishes.
From the kitchen of A Retro Dinner Gets a Modern Update
|
Bologna gets a modern update by celebrity chef Emeril Lagasse, who revamped one of his favorite retro dishes from childhood for "Good Morning America."
Ingredients
1 (6 1/2-pound) all-beef bologna
1/2 cup Dijon mustard
1 1/2 cups light brown sugar
Sliced white bread, for serving
Yellow mustard, for serving
Cooking Directions
Preheat the oven to 250 degrees F. Line a large roasting pan with aluminum foil.
Using a small sharp knife, score the top of the bologna to form a diamond design, cutting about 1/4-inch deep.
Place the bologna, cut side down, in the foil lined pan and spread a thin layer of mustard on the exposed areas. Using your hands, press half of the brown sugar onto the Dijon mustard to create a coating. Carefully turn the bologna over, so that the cut side is facing up, and spread the top and sides with the remaining Dijon mustard. Press the remaining brown sugar onto the mustard to coat the entire bologna well.
Place the bologna in the top third of the oven. Bake for 5 hours, rotating the bologna slightly during cooking to keep the bottom from burning.
Remove the bologna from the pan and place it on a large platter. Slice the bologna 1/4 to 1/2-inch thick and assemble sandwiches on fresh white bread with yellow mustard.
Serves: 12 to 16 servings
Recipe courtesy Emeril Lagasse, copyright MSLO, Inc., all rights reserved.
This recipe was styled by chef Karen Pickus for Good Morning America.
Other Recipes That You Might Like