Home
>
GMA
>
Recipes Home
>
'GMA's' Ultimate Game Day Grub Contest: Debbie Reid's Buffalo Chicken Egg Rolls
'GMA's' Ultimate Game Day Grub Contest: Debbie Reid's Buffalo Chicken Egg Rolls
Game Day Grub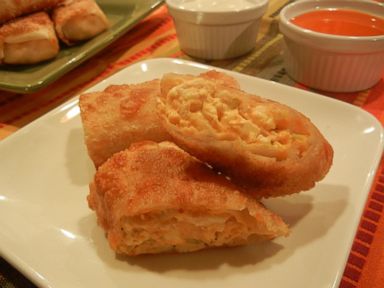 From the kitchen of Debbie Reid
|
"GMA"'s Game Day Grub competition is on! Debbie Reid of Clearwater, Florida, entered our contest with her Buffalo Chicken Egg Rolls recipe.
Ingredients
4 ounces cream cheese, softened
6 tablespoons Buffalo wing sauce
2 cups chopped cooked chicken
4 ounces bleu cheese, crumbled
1/2 cup minced celery
1/2 teaspoon kosher salt
1/4 teaspoon freshly ground black pepper
12 egg roll wrappers 6 1/2" x 6 1/2" each
1 - 2 tablespoons water
Vegetable oil or peanut oil, for frying
Bleu cheese dressing and additional Buffalo wing sauce for serving
Cooking Directions
In a medium bowl, mix the cream cheese and wing sauce; add in the chicken, bleu cheese, celery, salt and pepper, mix to fully combine.
Working with 1 egg roll wrapper at a time, place the wrapper with one corner of the diamond closest to you. Place 2 - 2 1/2 tablespoons of the chicken mixture in the bottom center of the wrapper. Roll the corner closest to you over the filling. Brush the 3 remaining corners with water. Fold in the sides of the wrapper and continue rolling the egg roll up until it is closed. Press to seal, set aside, and continue with the remaining wrappers and filling.
In a large non-stick skillet, pour oil to a depth of 1/2 inch. Heat the oil to approximately 350 degrees. Fry the egg rolls, in batches, for about 2 - 3 minutes or until golden brown, turning occasionally. Drain on paper towels.
Serves with bleu cheese dressing and additional Buffalo wing sauce on the side.
Recipe courtesy of Debbie Reid of Clearwater, Florida.
This recipe was styled by chef Karen Pickus for Good Morning America.
Other Recipes That You Might Like