Buttermilk Blueberry Bundt Cake
A Summertime Favorite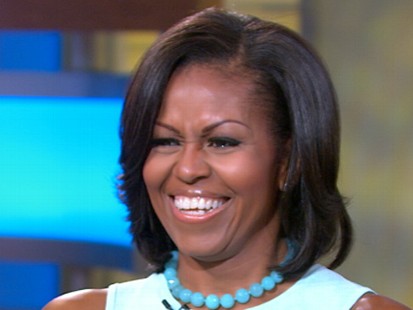 The first lady's book about gardens benefits the National Park Foundation.
From the kitchen of American Grown: The Story of the White House Kitchen Garden and Gardens Across America
|
We have a competition with the birds on the South Lawn to see who will get to the blueberries first; they are worthy adversaries. In the garden's second year, we built a frame covered in a light mesh over the blueberry bushes to allow water and sunlight to get in but keep the birds out. They still found a way into the little fortress and were able to snatch berries by the beakful.
The blueberries make purple spots throughout the cake and the acidity of the buttermilk contributes to the fine texture of the crumb. If the birds eat all of your blueberries too, you can make this cake with other summer fruits like raspberries, blackberries, or peaches. –Chef Bill
Ingredients
1 cup (2 sticks) unsalted butter, at room temperature, plus additional for greasing the pan
2 2/3 cups all-purpose flour
1 tablespoon baking powder
½ teaspoon salt
¼ teaspoon baking soda
1 ¾ cups sugar
4 large eggs, at room temperature
2 teaspoons pure vanilla extract
½ cup buttermilk
2 pints blueberries, washed and Dried
Cooking Directions
Preheat the oven to 350 degrees F. Grease or spray with cooking spray a 5-quart Bundt pan.
Sift the flour, baking powder, salt, and baking soda into a medium bowl.
In the bowl of a standing mixer fitted with the paddle attachment, beat the butter and sugar until fluffy and soft.
Add the eggs, one at a time, beating well after each addition. Add the vanilla and beat to combine. With the mixer set on low speed, add the flour mixture and buttermilk alternately to the butter mixture. Scrape down the sides between additions.
Remove the bowl from the mixer and gently fold in the berries. Scrape the batter into the prepared Bundt pan.
Bake for 55 minutes, or until a toothpick inserted near the center of the cake comes out clean. Cool the cake in the pan for at least 20 minutes and then turn out onto a rack to cool completely.
"Reprinted from American Grown: The Story of the White House Kitchen Garden and Gardens Across America by Michelle Obama. Copyright © 2012 by the National Park Foundation. Published by Crown, a division of Random House, Inc."
This recipe was styled by chef Karen Pickus for Good Morning America.
Other Recipes That You Might Like