The Cake Boss' Sausage-Stuffed Turkey Rollatini
An Italian-Style Thanksgiving Dish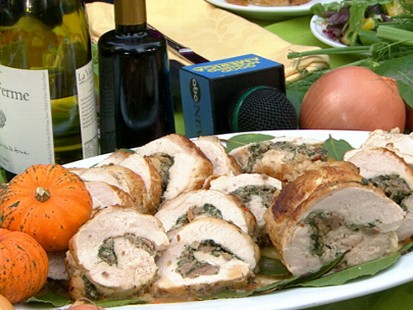 "Cake Boss" star prepares his family's favorite fennel and apple salad for Thanksgiving.
From the kitchen of Buddy Valastro
|
I came up with this recipe when I was looking for a new way to enjoy the flavors of turkey and stuffing without spending the whole day roasting and basting an entire bird: My inspiration was to make a quick sausage stuffing with onions, garlic, mushrooms, and breadcrumbs, and roll it up in a pounded-flat turkey breast. It worked better than I could have hoped and is a great, quick way to enjoy the flavors of Thanksgiving at any time of year with much less work and a much shorter cooking time.
You can also use this recipe for chicken breast, veal cutlet, or pork tenderloin. Serve it with wild rice and a mixed green salad.
For more recipes, check out "Cooking Italian with the Cake Boss."
Ingredients
¼ cup extra-virgin olive oil
1 cup finely diced Spanish onion
Kosher salt
2 large garlic cloves, finely chopped
12 ounces white button mushrooms, coarsely chopped
1 pound sweet Italian sausage, purchased loose or squeezed from casings
½ pound spinach, well washed in several changes of cold water and spun dry
1 boneless turkey breast half, about 3 pounds, with its skin
Freshly ground black pepper
1 cup Homemade Breadcrumbs (page 295)
2 tablespoons (½ ounce) finely grated Parmigiano-Reggiano
1 large egg, beaten
2 tablespoons unsalted butter, at room temperature
¼ cup dry white wine
1 large carrot, peeled and finely diced
1 large celery stalk, ends trimmed, finely diced
3 cups low-sodium chicken broth
3 tablespoons all-purpose flour
Cooking Directions
To make the stuffing: Heat a wide, heavy sauté pan over medium heat. Add 2 tablespoons olive oil and heat it until it is shimmering, almost smoking. Add ½ cup onions, season with a pinch of salt, and cook, stirring occasionally, until softened but not browned, about 5 minutes. Add the garlic and cook, stirring, until fragrant but not browned, about 1 more minute. Add the mushrooms and cook, stirring, until they release their liquid and begin to dry, 5 to 7 minutes. Stir in the sausage and cook, crumbling the sausage with a fork or the back of a wooden spoon, until all traces of pink are gone, 3 to 5 minutes. Stir in the spinach and cook until wilted but still nicely green, 2 to 3 more minutes. Transfer the mixture to a wide, heatproof bowl and let cool.
Meanwhile, use a heavy chef 's knife to butterfly the turkey breast and open it so it lies flat. Put the butterflied breast between pieces of plastic wrap and pound with a meat mallet to make a wide, flat surface (one half will have skin, one will not). Season both sides with salt and pepper.
Once the sausage mixture has cooled, season with salt and pepper and stir in the breadcrumbs, Parmigiano-Reggiano, and egg.
Position a rack in the center of the oven. Preheat to 400°F.
Spread the stuffing evenly over the turkey, leaving a 1-inch border on all sides. Fold the long, skinless side over the stuffing to enclose, gently pressing on the stuffing, then roll up the breast, tucking in the sides as necessary, to make a neat, tight package, with the skin on the outside. Working with the seam side down to help keep it tightly closed, tie the rolled breast crosswise at 1-inch intervals with kitchen string, and once along its length.
Brush the turkey rollatini with softened butter and season with salt and pepper.
Heat a Dutch oven or other heavy pot wide enough to hold the rollatini over medium-high heat. Add the remaining 2 tablespoons of the olive oil and heat until it is shimmering, almost smoking. Add the turkey and brown on all sides, turning as it browns, 12 to 15 minutes total cooking time. Transfer the turkey to a plate. Pour the wine into the Dutch oven and bring to a boil, stirring to loosen any flavorful bits, and continue to boil until the wine is reduced by half, 3 to 4 minutes. Add the remaining diced onion, the carrots, and celery to the Dutch oven. Season with salt and cook, stirring, until the vegetables soften but do not brown, 7 to 8 minutes. Return the turkey to the Dutch oven, pour in 1 cup of the chicken broth, cover, put in the oven, and roast for 25 minutes. Remove the lid and roast for 15 more minutes.
Remove the pan from the oven and use tongs or a slotted spoon to transfer the turkey to a cutting board. Tent loosely with foil to keep warm. Let rest while you make the gravy.
To make the gravy: Return the Dutch oven to the stovetop over medium-high heat. In a small bowl, whisk the flour and 6 tablespoons of chicken broth, then slowly whisk the mixture into the turkey juices. Whisk in the remaining chicken broth and bring the mixture to a boil. Lower the heat and simmer until the mixture has thickened considerably, about 5 minutes. Transfer the gravy to a sauceboat, straining it, if desired, or leaving the cooked vegetables in. Taste and add salt and pepper, if necessary.
Snip and remove the string from the rollatini, and slice crosswise into medallions (roulades). Arrange the roulades on a serving platter and serve with the gravy.
Recipe courtesy Buddy Valastro.
This recipe was styled by chef Karen Pickus for Good Morning America.
Other Recipes That You Might Like