Guy Fieri's Camping Sandwiches
Guy's Grub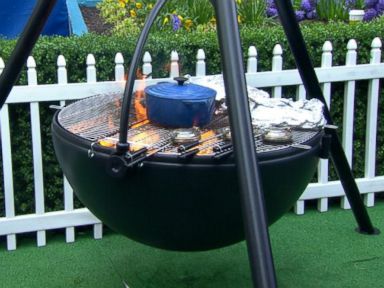 Celebrity chef previews the tasty recipes in his new book, "Guy on Fire."
From the kitchen of Guy Fieri
|
Guy Fieri is on fire in more ways than one. The celebrity chef is on top of his game with a newly-opened Las Vegas restaurant and a recently released cookbook, "Guy On Fire." Try one his hot recipes for Camping Sandwiches below.
Ingredients
Chili Sandwich
2 slices Pullman bread
3 tablespoons chili (see Smokey Bean Chili Recipe), room temp
1 teaspoon shredded sharp cheddar cheese
1 teaspoon diced sweet pickles
1 teaspoon diced sweet onion
Non-stick cooking spray
Berry Cream Cheese
2 slices Pullman bread
2 tablespoons softened cream cheese
2 tablespoons berry preserves (e.g. blueberry, strawberry, raspberry)
Non-stick cooking spray
Pepperoni Pizza
2 slices Pullman bread
2 tablespoons marinara sauce
1 tablespoon shredded sharp cheddar cheese
3 thin slices of pepperoni, julienned
1 pinch dried oregano
Non-stick cooking spray
Mac n Cheese
2 slices Pullman bread
3 tablespoons leftover mac n cheese
1 tablespoon shredded fontina cheese
1 teaspoon, crumbled cooked bacon (optional)
Non-stick cooking spray
Cooking Directions
Camping sandwiches can be prepared ahead of time and made in either square or circular presses – either work fine. Depending on your make and model, adjust the filling amounts so the sandwiches are full but not too full (or they will ooze and when being toasted). Filling can vary and it's a good way to utilize leftover chilli, mac n cheese or other ingredients when camping.
For circular sandwiches, punch out the bread into 4-1/4 inch circles. Prepare a camp fire (in a cowboy cauldron or other grill) with wood and wait until flames die down and coals glow red with white ash. Lower a grilling rack so it sits about 1-2 inches above the coals. Place presses on the grill so they heat up.
Assemble each sandwich with respective fillings leaving a half-inch border around the edges. Remove presses from hot grill, open and spray with non-stick cooking spray. Place sandwich in grill (it will sizzle, this pre-heating helps it form a nice crispy crust) and close tightly. Place on the grill and cook for about 1-2 minutes per side. You can check the sandwich as it cooks by opening and checking color – they should be golden brown and crispy on both sides when done.
Depending on how hot your coals are, you can also place the press directly on coals to make it cook faster – just keep an eye on it! Be sure to use room temperature (versus cold) - ingredients in the filling, otherwise lower the flame, and toast the sandwich for a longer amount of time to sufficiently warm the filling.
Cooking Notes: Make other pressed sandwiches by stuffing a variety of camping leftovers into the sandwich, such as: Pulled pork with BBQ sauce; shredded smoked chicken and sliced green chiles; steak and peppers from fajita recipes; or ground turkey with jack cheese, fire-roasted tomato salsa, and black beans.
Some sweet ingredient examples: Sautéed peaches and sweetened ricotta; peanut butter and strawberries; sliced apples and caramel sauce; roasted pineapple, bananas and honey; or chocolate chunks, marshmallows, and graham cracker crumbs.
Some breakfast examples: diced roasted potatoes and crumbled chorizo with shredded cheddar and skillet scrambled eggs.
Prep-Ahead Tip: Set the sandwich presses over the fire to heat up as you prepare the sandwiches, that way they're nice and hot when you are ready to toast the sandwiches.
At-home Tip: If making at home, cook over a gas burner. Hold the press directly over a flame on medium-high and cook 45-60 seconds per side. The heat is more concentrated so they cook faster than over a camp fire.
Recipe courtesy Guy Fieri with Ann Volkwein.
This recipe was styled by chef Karen Pickus for Good Morning America.
Other Recipes That You Might Like