Mario Batali's Caprese Salad
Father's Day Food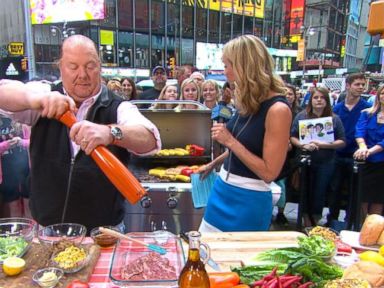 Celebrity chef and some of the world's greatest dads cook up a Father's Day feast.
From the kitchen of Mario Batali
|
It's the big daddy of all grilling holidays this weekend -- or at least the one fathers like best -- and celebrity chef Mario Batali of ABC's "The Chew" stopped by "Good Morning America" to share some tips for grilling for dad. Treat the dad in your life right this Sunday with Mario's recipe for caprese salad.
Ingredients
1-1/2 pounds fresh burrata
Maldon sea salt or another flaky sea salt, such as fleur de sel
1/4 cup plus 2 tablespoons basil pesto
30-40 slow roasted cherry tomatoes (recipe below)
Finishing-quality extra virgin olive oil
30-40 fresh micro or miniature basil leaves or 6 large fresh basil leaves for garnish
Cooking Directions
Cut the burrata into six equal-size segments and lay each segment, cut side up, on a salad plate. Season the burrata with sea salt and spoon 1 teaspoon of pesto over each portion of cheese. Use scissors to cut the tomatoes into clusters of one, two or three tomatoes. Carefully lift the tomatoes by the stems and gently rest one cluster atop each serving of cheese, choosing the largest clusters. Stack another cluster on top of the first, with the stem at an opposing angle, and then stack the remaining clusters on top of the first, creating a small piles of tomatoes two or three stacks high, with about five to seven tomatoes per serving. Drizzle about 1/2 teaspoon of the finishing-quality olive oil over each salad, scatter the micro or miniature basil leaves or use scissors to snip one large basil leaf over each salad, and serve.
Slow-Roasted Cherry Tomatoes
2 9-ounce packages Sunsweet tomatoes on stems, or 1 pound sweet small tomatoes
1 tablespoon extra virgin olive oil
1 teaspoon Kosher salt
1/2 teaspoon freshly ground black pepper
Adjust the oven rack to the middle portion and preheat the oven to 300F.
Place a wire rack on top of a baking sheet. Gently lift the tomatoes out of the boxes, taking care to keep the tomatoes attached to the stems as much as possible. Brush the tomatoes with the olive oil and season with salt and pepper. Place the tomatoes in the oven to roast until their skins are shriveled but the tomatoes are still plump, about 1-1/2 hours. Remove the tomatoes from the oven and allow them to cool to room temperature. Use the tomatoes or cover with plastic wrap and store at room temperature for up to one day or refrigerate for up to three days. Bring the tomatoes to room temperature before serving.
Recipe courtesy Mario Batali.
Other Recipes That You Might Like