Rocco DiSpirito's Caprese Salad
Guilt-free and full of flavor!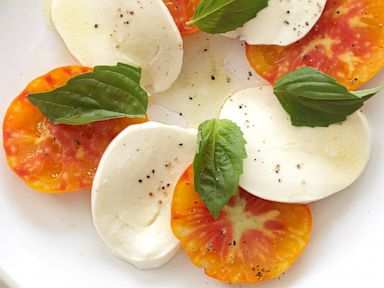 From the kitchen of Rocco DiSpirito
|
This salad from the island of Capri boasts basil, said to stimulate the sex drive, and plump ripe tomatoes (not called "love apples" for nothing). When you make this salad for your beloved, your fate will be sealed on the spot. They will forever be putty in your olive oil-smeared hands.
The centerpiece of the salad is, of course, mozzarella cheese. Maria Ercolano, who was originally taught by her mother, Margherita Ferraro, and has been making mozzarella for decades, showed me how to make fresh mozzarella for this dish. I realize that not many people can or want to make their own mozzarella, but learning how did teach me to savor the subtle nuances of the cheese. Using my Super Olive Oil allows the dish to be more about the taste of the mozzarella than a vehicle to carry the flavor of the olive oil.
Ingredients
3 large ripe tomatoes, heirloom if possible
Salt
Freshly ground black pepper
6 ounces fresh mozzarella, sliced ¼ inch thick
12 fresh basil leaves, torn into small pieces, stems removed
4 tablespoons Super Olive Oil (page 34)
Cooking Directions
Slice the tomatoes into 16 even ½-inch-thick slices. Season lightly with salt and pepper. Top each with a slice of mozzarella, then season again lightly with salt and pepper.
Arrange 4 tomato and cheese slices overlapping on each of 4 small salad plates and scatter the basil on top. Drizzle each plate with 1 tablespoon Super Olive Oil.
Another version of this recipe has 42 grams of fat and 450 calories. Rocco's version has 11.5 grams of fat and 167 calories.
Recipe courtesy "Now Eat This! Italian: Favorite Dishes from the Real Mamas of Italy--All Under 350 Calories."
This recipe was styled by chef Karen Pickus for "Good Morning America."
Other Recipes That You Might Like