Carla Hall's Chew Chew Clusters
Try These Cute Clusters for Halloween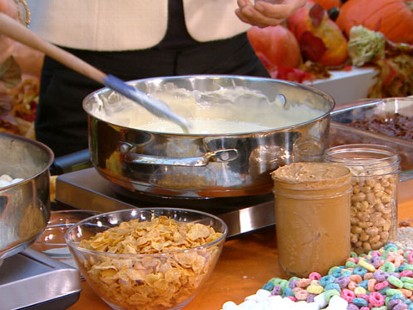 "The Chew's" Carla Hall whips up tasty treats for the haunted holiday.
From the kitchen of Carla Hall
|
Try these sweet and crunchy clusters for Halloween. You can't go wrong with chocolate and caramel!
Ingredients
2 cups dark chocolate chips, melted
1 cup salted peanuts
1 cup caramel sauce, recipe follows
1 jar marshmallow fluff
For the caramel sauce:
1 cup sugar
6 tbsp butter
½ cup heavy whipping cream
Cooking Directions
For the clusters:
Special equipment: 1 small silicon muffin tin
Place a teaspoon of chocolate in the bottom of the muffin tin. Then add a teaspoon of peanuts, teaspoon of caramel sauce, and a teaspoon of fluff. Top with another teaspoon of the dark chocolate. Place in the fridge to firm up, about 2 hours and up to overnight.
For the caramel sauce:
Heat sugar on medium high in a heavy bottom 3-quart saucepot. As the sugar begins to melt, begin to whisk vigorously. Stop whisking as soon as the sugar is boiling. In a slow stream, add the cream and whisk until the sauce is smooth. It will foam considerably during this step, and the next. Remove from heat and add the butter, and whisk until the butter has incorporated. Allow sauce to cool to room temperature before using.
This recipe was styled by chef Karen Pickus for Good Morning America.
Recipe courtesy Carla Hall.
Other Recipes That You Might Like