Carla Hall's Chocolate Lava Cake
Chocolate Lovers Rejoice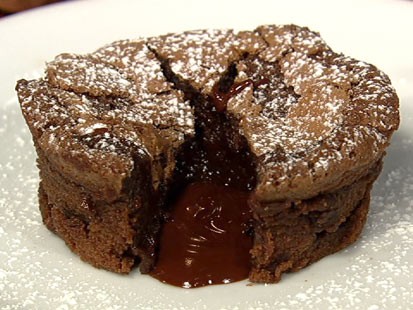 From the kitchen of Carla Hall
|
Ingredients
12 oz Bittersweet Chocolate
1 1/2 Cups Butter
9 Large eggs
2 Cups Sugar
2 Tbsp Vanilla extract
3/4 Cup Flour
1 Tsp Salt
8 Chocolate truffles, desired flavor
butter, for ramekins
flour, for ramekins
cocoa powder, for ramekins
powdered sugar, for garnish
Cooking Directions
In a small, heavy bottomed saucepan, melt chocolate and butter over low heat. Let chocolate mixture cool. (Alternatively, chocolate and butter may be melted in the microwave. Be careful not to overheat and burn it.)
In a mixer, with the balloon whip attachment, whisk eggs and sugar until thickened and lemon-colored; blend in vanilla. Sift flour and salt together and fold in; blend in chocolate mixture on low speed. Mix until thoroughly blended.
Prepare ramekins by greasing with butter and dusting of flour mixed with some cocoa powder.
Scoop batter into prepared ramekins and push truffle into center of batter. Bake at 400F for 18-20 minutes or until the edges are cooked and the middle is just set. Garnish with sprinkle of powdered sugar.
Variation: For Espresso flavor, add 1 teaspoon instant coffee powder to chocolate-butter mixture as it melts.
Recipe courtesy The Chew.
Other Recipes That You Might Like