Home
>
GMA
>
Recipes Home
>
Carla Hall's Dry-Rubbed Pork Tenderloin and Pickled Cabbage Sandwiches
Carla Hall's Dry-Rubbed Pork Tenderloin and Pickled Cabbage Sandwiches
Try This Hearty Sandwich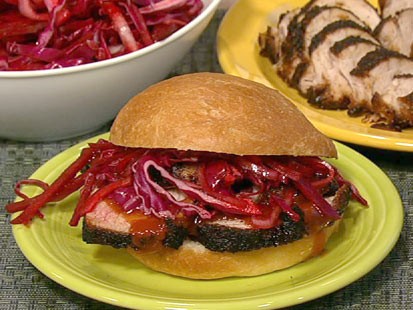 From the kitchen of Carla Hall
|
Ingredients
ingredients
2 Pork Tenderloins
12 Sandwich Rolls
2 tablespoon Olive Oil
Salt
For the Slaw:
1/2 Red Cabbage (finely shredded)
2 Red beets (juilienned)
1 small Red Onion (thinly sliced)
2 tablespoon Granulated Sugar
3 tablespoon Apple Cider Vinegar
3 tablespoon White Wine
1 tablespoon Honey
For the Pork Dry Rub Mix:
1 teaspoon Ground Thyme
2 teaspoon Chili Powder
4 tablespoon Brown Sugar
2 teaspoon Black Pepper
2 teaspoon Ground Cumin
2 teaspoon Garlic Powder
1 teaspoon Cayenne Pepper
1 teaspoon Onion Powder
1 teaspoon Paprika
For the Barbecue Sauce:
1 cup Ketchup
1/4 cup White or Apple Cider Vinegar
1/4 cup Brown Sugar
2 tablespoon Butter
1 tablespoon Worcestershire Sauce
1 tablespoon Lemon Juice
1/2 teaspoon Salt
1/4 teaspoon Cayenne Pepper
Cooking Directions
For the Barbecue Sauce: Mix all barbecue sauce ingredients in a small pot and simmer over a low heat for 15 - 20 minutes. Adjust salt, if necessary. Serve at room temperature
For the Pork Rub: Combine all the ingredients in a bowl and mix well.
Generously salt pork tenderloins, then rub with dry rub mixture. Refrigerate for at least 2 hours.
For the Slaw: In a colander, toss cabbage in salt and allow to drain at least 1 hour. In a small pot, combine sugar, cider vinegar, white wine and honey. Bring to a boil over medium-high heat, then reduce heat to low and simmer until mixture is reduced and slightly thick. Season with salt. While mixture is reducing, combine cabbage, beets and onions in a medium size bowl. Pour enough of vinegar mixture over cabbage mixture to coat. Toss well and adjust seasoning. Add more vinegar mixture if necessary. Set aside.
Preheat oven to 400F.
Heat stainless or cast iron skillet to medium high. Pour 2 teaspoon olive oil in pan and place tenderloins in skillet. Sear on all sides, about 2 minutes per side. Finish cooking in oven to a "medium" internal temperature, about 12-15 minutes. Remove from oven and allow to rest.
To Serve: Place thinly sliced pork on soft roll and top with pickled cabbage. Serve with barbecue sauce.
Recipe courtesy The Chew.
Other Recipes That You Might Like