Carla Hall's Fried Grits with Ice Cream and Warm Marmalade
An Unexpected Combination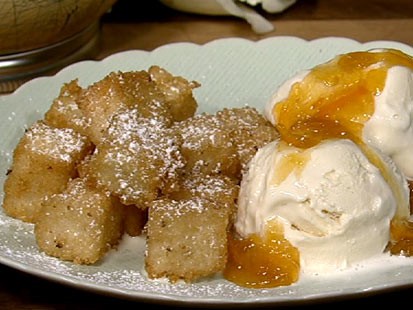 From the kitchen of Carla Hall
|
Ingredients
2 cups Leftover Grits
4 tablespoon Vegetable Oil, to fry
3 tablespoon Confectioners Sugar
3 cups Vanilla Ice Cream
1 cup Your Favorite Store bought Marmalade
Cooking Directions
Place leftover grits into a casserole dish and refrigerate until grits are firm and set.
Preheat oil to 360F. Cut the grits into 1-inch by 1-inch squares, and carefully drop in the oil and fry until crisped. Transfer to a paper towel lined plate. While still warm, sprinkle generously with confectioners sugar.
Meanwhile, warm your favorite marmalade in a small saucepot until heated through, being careful not to burn. You can add a little water if necessary to thin out the consistency.
To serve, scoop vanilla ice cream over the squares of fried grits, and drizzle marmalade over top.
Recipe courtesy The Chew.
Other Recipes That You Might Like