Carla Hall's Ghoulish Marshmallow Ghosts
Try These Spooky Halloween Treats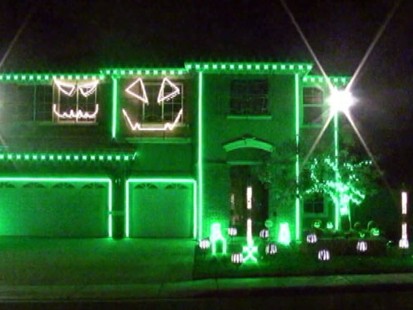 Owners of a Riverside home create a light show with pumpkins singing LMFAO.
From the kitchen of Carla Hall
|
Make these adorable treats with your kids this weekend. They're great to share with family and friends this Halloween!
Ingredients
4 cups cornflakes
1 bag of mini marshmallows
½ stick of butter
¼ cup cocoa powder
2 T powdered milk
Cooking Directions
Melt butter, add marshmallows, add cocoa powder and dry milk, then once combined add cereal
Then when all combined - put mixture into a greased pan. To make into ghosts, roll with greased hands into balls and take mini chocolate clips for eyes or you could attach some mini marshmallows, etc and make them into characters.
You can also add whatever you like into the marshmallow mixture…peanut butter, chocolate, etc And you can use whatever kind of cereal is in the kitchen
This recipe was styled by chef Karen Pickus for Good Morning America.
Recipes courtesy Carla Hall.
Other Recipes That You Might Like