Carla Hall's Pumpkin Beignet with Caramel Dipping Sauce
Deep-Fried Fall Favorite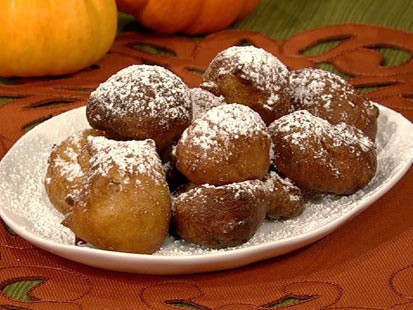 From the kitchen of Carla Hall
|
Ingredients
1/2 cup water
1/2 cup milk
8 tbsp butter, cut into 1/2 inch cubes
1 cup all-purpose flour
1/2 tsp salt
1 tsp baking powder
6 eggs
spiced pumpkin mix:
1/2 cup finely shredded pumpkin or butternut squash
1/2 cup toasted pumpkin seeds
2 tsp brown sugar
1 tsp ground cinnamon, plus 1/2 teaspoon
1/2 tsp ground nutmeg
1/2 tsp ground ginger
1/4 tsp salt
1 tsp lemon or lime zest
1/2 cup powdered sugar
for the caramel dipping sauce:
1 cup granulated sugar
6 tbsp unsalted butter
1/2 cup sour cream
2 tsp kosher salt
Cooking Directions
Prepare spiced pumpkin mix: Place shredded pumpkin in a towel, roll tightly and wring out to extract as much liquid as possible. Stir in remaining ingredients.
Prepare pate a choux batter: Combine flour, salt, baking powder. Set aside.
In a medium pot combine water, milk & butter. Melt butter and bring mixture to a light boil/simmer. Add flour mixture all at once and stir quickly to combine. Stir until smooth. Cook until mixture is dry and doesn't stick to your fingers when pinched. Remove from heat and let cool.
Place cooled flour mixture in bowl of standing mixer or in a large bowl (if using a hand mixer.) With mixer on med-low speed, add eggs in one at a time and mix until smooth. Stir in spiced pumpkin mixture. (Choux batter may be made at least 24 hours ahead. Mixture will be loose.)
Heat canola oil in deep pot to 375 degrees or use deep fryer. Using a small scoop or two spoons, scoop batter into fryer in small batches. Dough should rise to top of oil. Flip/turn in oil to brown on all sides. With spider/slotted spoon, remove beignets from pot. Drain balled up paper towel. Continue to cook beignets. Sprinkle with powdered sugar mixture and remaining 1/2 teaspoon of cinnamon. Serve immediately!
For the Salted Caramel Dipping Sauce:
Heat sugar on moderately high heat in a heavy-bottomed 3-quart saucepan. As soon as the sugar begins to melt, stir vigorously with a whisk or wooden spoon. As soon as the sugar comes to a boil, stop stirring.
As soon as the sugar crystals have melted (and the sugar is dark amber in color), immediately add the butter to the pan. Whisk until the butter has melted, then remove from heat.
Slowly add the sour cream and continue to whisk to incorporate. Whisk until the caramel is smooth. Let cool in pan for a couple of minutes before pouring it into a mason jar. Let cool to room temperature. Store in fridge for up to 2 weeks. Warm before serving.
Other Recipes That You Might Like