Carla Hall's Root Vegetable Ragout
Vegetarian-Friendly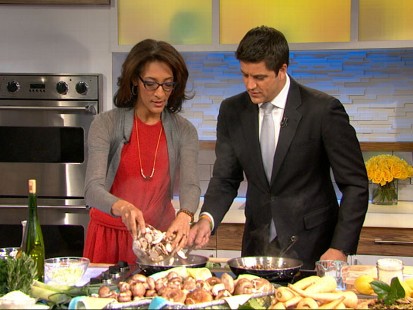 Chef Carla Hall shares her first cookbook, "Cooking with Love," on 'GMA'
From the kitchen of Carla Hall
|
For the fall, I like to combine all my favorite root veggies in a single dish. I used to turn them into a tasty gratin, but boy, that's fattening and time-consuming. This is a nice, light alternative that brings out the best in the natural earthy sweetness of the roots. You've got to try this with Pork Tenderloin Medallions. It's also great with roasted duck.
This recipe was excerpted from Carla's book "Cooking With Love: Comfort Food That Hugs You."
Ingredients
2 medium carrots
2 medium parsnips
1 small rutabaga
1 medium turnip
1 medium Yukon gold potato
2 ½ tablespoons extra virgin olive oil
Kosher salt
1 small yellow onion, cut into ¼-inch dice
1 tablespoon unsalted butter
½ cup chicken Stock (page 000)or store-bought unsalted chicken broth
Freshly ground black pepper
2 tablespoons fresh flat-leaf parsley leaves, chopped
2 tablespoons fresh thyme leaves, chopped
Freshly grated zest of 1 lemon
Cooking Directions
Preheat the oven to 425°F.

Peel the carrots, parsnips, rutabaga, turnip, and potato and cut them into ½-inch dice. Combine them on a half sheet pan, toss with 2 tablespoons of the olive oil, and season with salt. Spread the vegetables in a single layer.

Roast, stirring and rotating the pan occasionally, until tender and golden, about 25 minutes.

Meanwhile, heat a larger skillet over medium heat. Heat the remaining ½ tablespoon oil. Add the onion and cook, stirring frequently, until tender, about 3 minutes.

Stir in the butter until it melts, then stir in the roasted vegetables. Add the chicken stock and season with salt and pepper. Simmer until the stock thickens and coats the vegetables, about 3 minutes. Stir in the parsley, thyme, and lemon zest. Serve hot or warm.

This recipe was styled by chef Karen Pickus for Good Morning America.
Recipe courtesy Carla Hall.

Other Recipes That You Might Like