Cat Cora's Grilled Asparagus with Tangerine Aioli
Crisp Veggies Get a Burst of Citrus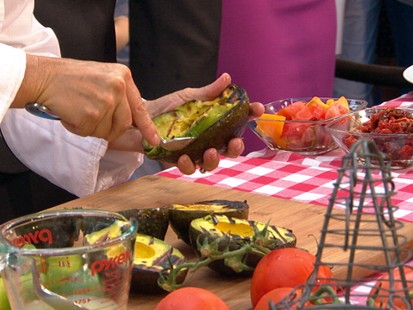 Only female Iron Chef also prepares a dish with apricot dressing and prosciutto.
From the kitchen of Cat Cora
|
Brighten up boring veggies with a burst of citrus flavor. The homemade aioli can be whipped-up easily in a food processor.
Ingredients
For the Tangerine Aioli:
2 cups fresh tangerine juice
2 egg yolks
1 small clove garlic, minced
2 teaspoons fresh lemon juice
2 1/4 cups extra virgin olive oil
1 teaspoon kosher salt
1/2 teaspoon freshly ground black pepper
For the asparagus:
1 1/2 pounds large asparagus stalks
Extra virgin olive oil for brushing
3/4 teaspoon kosher salt
1/2 teaspoon freshly ground black pepper
Cooking Directions
To make the aioli, in a saucepan, bring the tangerine juice to a boil over medium-high heat. Reduce the heat to a simmer and cook until reduced to a little more than 1 cup, about 8 minutes. Remove from the heat and let cool.
Combine the egg yolks, garlic, and lemon juice in a blender or food processor. Process at medium-high speed to blend, then very slowly add the 2¼ cups olive oil in a thin stream through the pouring hole while the machine is running. When the mixture has thickened, turn off the machine, add the reduced tangerine juice, and pulse until well mixed. Add the salt and pepper. If the aioli is too thick, add a little water. Refrigerate while you prepare the asparagus.
Prepare a fire in a charcoal grill or preheat a gas grill to high.
Bring a saucepan three-fourths full of salted water to a boil. Snap off the tough end of each asparagus spear and with a vegetable peeler or paring knife peel halfway up the stalk. Add the asparagus to the boiling water and blanch for 3 to 4 minutes. While the asparagus is cooking, pour ice water into a large bowl. Drain the asparagus and immediately immerse in the ice water to stop the cooking. Drain again.
Brush the asparagus with olive oil and season with the salt and pepper. Grill until tender-crisp, about 2 minutes on each side. Let cool. To serve, top with the aioli.
This recipe was styled by chef Karen Pickus for Good Morning America.
Other Recipes That You Might Like