Cat Cora's Grilled Avocado Cobb Salad With Apricot Dressing
Give Your Salad a Burst of Fruit Flavor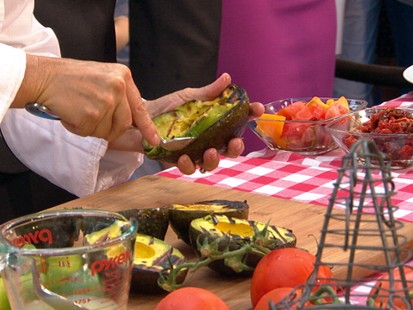 Only female Iron Chef also prepares a dish with apricot dressing and prosciutto.
From the kitchen of Cat Cora
|
For grilling, be sure to choose avocados that are still fairly firm; soft ones don't work. The apricot preserves are just the right accent for the blue cheese and smoky bacon in the salad.
Ingredients
3 large firm avocados, halved, pitted, and peeled
1 tablespoon extra-virgin olive oil
Kosher salt and freshly ground black pepper
11/ 2 teaspoons fresh lime juice
apricot dressing
2 tablespoons white wine vinegar or champagne vinegar
1/ 4 cup apricot preserves
1/ 3 cup extra-virgin olive oil
1 teaspoon chopped fresh thyme
Kosher salt and freshly ground black pepper
8 cups chopped iceberg, romaine, or butter leaf lettuce
1 cup diced tomato
1 cup drained, diced oil-packed sun-dried tomatoes
2 large eggs, hard-boiled, peeled, whites and yolks coarsely chopped separately
6 slices turkey bacon, cooked and crumbled
1/ 2 cup crumbled blue cheese
Cooking Directions
To grill the avocados: Preheat a gas grill on medium-high heat or light a charcoal grill.
Brush or spray the avocados evenly with the olive oil and season them with salt and pepper to taste. Grill the avocado halves just until grill marks form, 2 to 3 minutes. With a spatula, carefully turn the halves and cook for a few minutes more, until marks appear on the other side. Remove to a side dish and sprinkle lime juice over each half. Cool the avocados to room temperature or refrigerate until you're ready to assemble the salad.
For the dressing: In a large bowl, whisk together the vinegar, apricot preserves, olive oil, thyme, and salt and pepper to taste.
to assemble the salad: In a large bowl, toss the lettuce with the dressing. Transfer the dressed lettuce to a large platter. Carefully cut the grilled avocados on the bias into thick slices and place them down the center of the salad. In a small bowl, mix the fresh and sun-dried tomatoes together. Spoon the yolks, whites, bacon, tomatoes, and cheese around the avocado. Serve.
Recipe courtesy Cat Cora.
This recipe was styled by chef Karen Pickus for Good Morning America.
Other Recipes That You Might Like