Cat Cora's Grilled Nectarines with Prosciutto and Sheep's Cheese
A Sweet and Savory Dish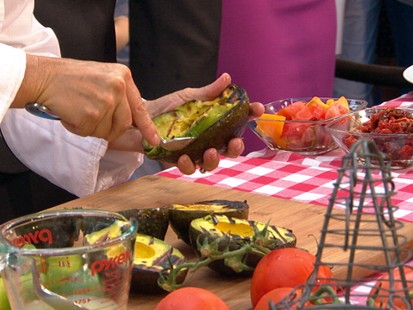 Only female Iron Chef also prepares a dish with apricot dressing and prosciutto.
From the kitchen of Cat Cora
|
This sweet and savory dish works well as a simple appetizer for guests to nibble on before dinner. The grilled nectarines add great smoky flavor to the dish.
Ingredients
8 ripe but firm nectarines, halved and pitted
Cat Cora's Kitchen by Gaea Sitia DOP Greek Extra Virgin Olive Oil for brushing and drizzling
Kosher salt and freshly ground black pepper to taste
8 paper-thin slices prosciutto cut in half cross-wise
½ cup Kasseri cheese or other sheep's cheese shavings
Cooking Directions
Prepare a fire in a charcoal grill or preheat a gas grill on high.
Brush each nectarine half with olive oil and sprinkle with salt and pepper. Place on a shot area of the grill for 1 minute on each side, to lightly grill-mark the nectarines.
Remove from the grill when they're just warm and place on a warmed platter. Drape the prosciutto lightly over the nectarines so you can se a big of he fruit. Lay the pieces of cheese over the prosciutto. Lightly drizzle olive oil over the fruit, cheese, and prosciutto and serve immediately.
Recipe courtesy Cat Cora.
This recipe was styled by chef Karen Pickus for Good Morning America.
Other Recipes That You Might Like