Home
>
GMA
>
Recipes Home
>
Bobby Flay's Cedar Plank Roasted Turkey Breast with Cranberry Pinot Noir Gravy
Bobby Flay's Cedar Plank Roasted Turkey Breast with Cranberry Pinot Noir Gravy
Upgraded Thanksgiving Turkey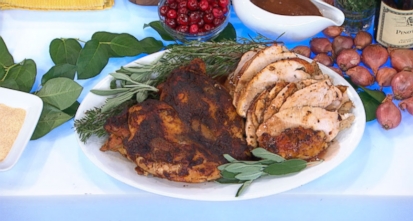 Food Network star shows how to wow a crowd with cedar plank roasted turkey and gravy.
From the kitchen of Bobby Flay
|
Add some regional flair to your Thanksgiving table this year with celebrity chef Bobby Flay's Pacific Northwest-themed dishes. Try this recipe for cedar plank roasted turkey breast with cranberry pinot noir gravy.
Ingredients
For the turkey:
1 (6 ½ - 7 lb) turkey breast, rinsed well and patted dry
1 stick unsalted butter, slightly softened, room temperature
1 tablespoon garlic powder
1 tablespoon onion powder
1 tablespoon ancho powder
1 teaspoon dried sage, ground
1 teaspoon dried rosemary, ground
Kosher salt
Freshly ground black pepper
1 large carrot, cut into 1-inch pieces
1 large stalk of celery, cut into 1-inch pieces
1 large onion, quartered
6 cups homemade chicken stock
You will need:
1 large (or 2 small) cedar plank, untreated, pre-soaked for at least 4 hours; can soak in water, cider, wine, beer, any liquid of your choice
Tips when cooking with cedar planks:
Always oil your plank before cooking to help avoid food from sticking
Place plank in pan with liquid, checking the level throughout the cooking time to ensure you have at least ½" present at all times.
For the cranberry pinot noir gravy:
2 tablespoons butter
1 shallot, finely chopped
1 tablespoon fresh thyme, chopped
3 tablespoons flour
1 cup cranberry juice, good quality, unsweetened
1 cup Pinot Noir
4 cups reserved cedar turkey infused stock (add reserved chicken stock to equal 4 cups total)
2 teaspoons honey
Kosher salt and freshly ground black pepper
Cooking Directions
For the turkey:
Remove turkey from refrigerator at least 1 hour before roasting. Preheat oven to 400º.
Combine the butter, spices a medium bowl, season with salt and pepper and mix well until incorporated. Rub the entire turkey with the butter mixture and season liberally with salt and pepper. Put 4 cups of the chicken stock in the bottom of the roasting pan. Place soaked and oiled plank in roasting pan. Set the turkey atop the cedar plank and scatter the vegetables around the pan. Roast in the oven until lightly golden brown, about 45 minutes. Reduce the heat to 350º and continue roasting, basting with the pan drippings mixed with the chicken stock, every 15 minutes until an instant read thermometer reads 160º, about 1½ hours. Remove the turkey from the oven, and then carefully transfer to baking sheet and tent loosely with foil, and let rest 20 minutes before slicing.
For the cranberry pinot noir gravy:
Remove the cedar planks from the pan and strain the cooking liquid from the roasting pan and reserve.
Melt the butter over medium heat and add the shallot and cook until translucent, about 1 minute. Add the thyme and cook 1 minute more. Add the flour and cook for 1 minute longer, stirring as to not scorch the flour. Add the juice and the wine, scraping any cooked bits up from the pan, and cook until the liquid is thickened and the alcohol is all cooked out, about 5 – 10 minutes. Whisk in the stock and cook until thickened to gravy consistency, about 5- 10 minutes more. Add the honey and season with salt and pepper.
Other Recipes That You Might Like