Cesare Casella's Tuscan Chicken Soup
A Comforting Soup for Chanukkah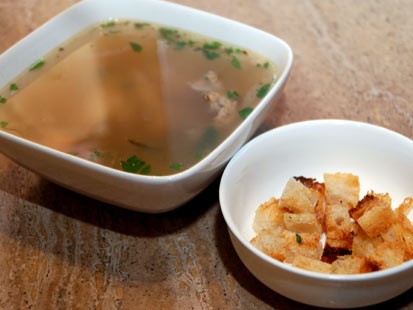 From the kitchen of Cesare Casella
|
Chef Cesare Casella of NYC's Salumeria Rosi Parmacotto serves Italian comfort food classics at his cozy Italian restaurant, and one of his most popular cold-weather dishes is his take on the traditional chicken soup. A bit different from the versions made by Jewish grandmothers, Cesare's version is spiked with brandy and cooked with warm spices like cinnamon and nutmeg.
Ingredients
5 tablespoons extra virgin olive oil
1 cup thinly sliced onions
½ cup diagonally sliced carrot
¼ cup sliced garlic cloves
one 3 to 4 pound chicken, cut into 6 to 8 pieces
salt
freshly ground black pepper
½ cup brandy
6 whole cloves
3 bay leaves
½ cinnamon stick
1 whole nutmeg
2 sprigs rosemary
1 celery stalk, halved
¼ cup fresh Italian parsley leaves
16 slices day old bread, toasted and rubbed with raw garlic
½ cup grated Parmesan cheese, for finishing
Cooking Directions
Coat the bottom of a stockpot with 3 tablespoons of the olive oil. Add the onions, carrot, and garlic and sauté over medium until the vegetables start to soften but do not brown. Stir occasionally. Season the chicken with salt and pepper and add it t the pot. Turn the chicken pieces over as they start to brown.
When the chicken and the vegetables have browned lightly, add the brandy and reduce by half Using a 6 inch square piece of cheesecloth, tie together the cloves, bay leaves, cinnamon stick, nutmeg and rosemary. Add water to cover the chicken and season with salt and pepper. Did the herb bouquet and celery, bring to a simmer, and cook for 45 minutes to 1 hour.
Remove the chicken from the soup. Remove and discard the herb bouquet and the celery. Place the soup in the refrigerator to cool until the fat on top hardens. Remove the soup from the refrigerator and skim the fat off the surface. Reheat. Meanwhile, preheat the broiler.
When the chicken is cool enough to handle, remove the skin, bones, and gristle. Shred the chicken into bite sized pieces and return it to the soup. Taste for seasoning. Stir in the parley leaves. To serve, place a slice of garlic toast in each of 8 ovenproof soup bowls and ladle chicken and some of the soup over it. Top with a slice of toast. Drizzle the toasts with the remaining olive oil, sprinkle with grated Parmesan and pepper. Place the bowls under the broiler for 2 to 3 minutes or until the cheese has melted and starts to brown.
Recipe courtesy Cesare Casella.
Other Recipes That You Might Like