Emeril Lagasse's Cheesy Turkey and Vegetable Casserole
Leftover No More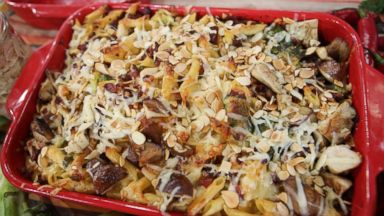 From the kitchen of Emeril Lagasse
|
Rather than just stick those Thanksgiving leftovers into the microwave, spice things up and transform the flavors into a whole new meal. Emeril Lagasse shows you how with his recipe for cheesy turkey and vegetable casserole.
Ingredients
8 ounces uncooked pasta, such as penne, rotini, or elbow macaroni
Salt
4 tablespoons unsalted butter
10 ounces quartered shiitake mushrooms (stems removed)
Freshly ground black pepper
4 slices applewood smoked bacon, diced
4 tablespoons flour
1/2 small onion, minced
3 cloves garlic, minced
1 teaspoon fresh thyme leaves
3 cups milk
Cayenne pepper, to taste
4 ounces grated white cheddar
3 cups blanched chopped broccoli
2 cups diced cooked turkey
3 ounces grated gruyere
¼ cup sliced almonds
Cooking Directions
Cook the pasta in boiling salted water according to package directions until al dente. Drain in a colander, then rinse under cool water to halt the cooking, and set aside.
In a large nonstick skillet over medium high heat, melt 2 tablespoons of the butter. When the butter begins to sizzle, add the shiitake mushrooms and season with salt and pepper. Cook, tossing occasionally, until the mushrooms are golden on both sides, about 5 minutes. Remove from the heat and set aside.
In a medium saucepan over medium heat, add the bacon and cook, stirring, until bacon has rendered its fat and is crispy. Using a slotted spoon, transfer the bacon to paper towels to drain and set aside. Add the remaining 2 tablespoons of butter to the bacon drippings in the pan and stir in the rice flour. Cook, stirring, for 2 to 3 minutes. Add the onion, garlic, and thyme and cook, stirring, until the onion is soft and translucent, 3 to 4 minutes. Slowly add the milk, a little at a time and stirring to incorporate each addition, and allow the sauce to come to a simmer. Season to taste with salt, pepper, and cayenne and stir in the mushrooms. Simmer for 3 to 4 minutes then remove from the heat. Stir in the cheddar cheese.
Preheat the oven to 350°F and grease a 2 ½- or 3-quart baking dish, such as a 9- by 9-inch.
In a large bowl combine the pasta, mushroom sauce, broccoli, turkey, and reserved crispy bacon. Gently stir until mixed well. Season to taste with salt, pepper, and cayenne. Transfer to the prepared baking dish and sprinkle with the gruyere. Top with the almonds and bake until golden brown and bubbly, about 40 minutes.
Recipe courtesy Emeril Lagasse, copyright MSLO, Inc., all rights reserved
Recipe styled by Karen Pickus for Good Morning America.
Other Recipes That You Might Like