Chef Rachel Willen's FoodFix for Turkey Stock
Make This Thanksgiving Essential Ahead of Time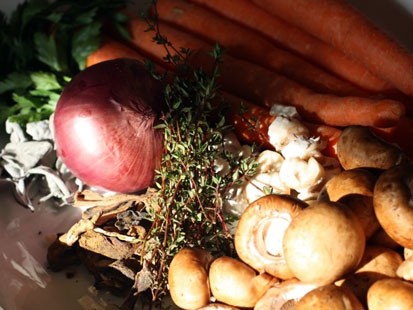 From the kitchen of Rachel Willen
|
You are going to need stock. Think about it. Your stuffing, no matter what recipe you decide to make—your grandmother's heirloom cornbread, your mother-in-law's oyster dressing, or a new-fangled prune and pecan with sourdough you find on a blog at the last minute (ahem!, stay tuned to http://food-fix.com for that one!)—is going to call for 1-2 quarts of stock. And then there is the gravy. You can't make gravy with just water. Not good gravy anyhow. So you may as well take the little bit of time needed to make a pot of turkey stock because a) it will get you in a Thanksgiving mood with the smell of the roasting turkey parts, (mine is simmering on the stove, as I write this and it is the best kind of aroma therapy ever), b) you will end up with a beautifully enriched broth that will take your stuffing, gravy and Thankgiving leftover recipes to a new level you could never achieve with store-bought chicken stock, and c) you will be very proud and pleased with yourself and able to drop into the conversation every so often over the Thankgiving weekend, "I made my own stock this year, you know." Go get those turkey parts and do it! You'll be happy you did!
EQUIPMENT: A large rimmed sheet pan or roasting pan. A large stock pot, 8-10 Qt capacity, or more.
Makes about 6 quarts
Ingredients
About 5-6 lbs turkey parts (neck, wings, thighs, legs, back from a small turkey *)
2 yellow onions, unpeeled, quartered
2 heads garlic, halved horizontally (to look like a honeycomb)
2-3 tablespoons olive oil
6 medium-large carrots, cut into large chunks
3 stalks celery, cut into large chunks
10 sprigs of flat leaf parsley
1 lb cremini (or baby bella) mushrooms
1 oz. dried porcini mushrooms (or other dried mushrooms or mushroom scraps)
6-8 fresh sage leaves
4-6 sprigs thyme
Cooking Directions
*Note on Turkey Parts: Many butchers or butcher departments of some grocery store chains may already sell turkey legs, thighs and wings. If yours doesn't, you can always purchase a small turkey, 8-10 lbs, and have the butcher cut it up, removing the wings, legs, thighs, back and neck for you to use in this stock. You can roast the breast separately, (it will cook in half the time unencumbered by it's legs and thighs, directions for roasting below) and refrigerate or freeze the meat for after Thanksgiving sandwiches (there is never enough white meat left anyway!) or other dishes, like Turkey Pot Pie, Turkey Quesadillas, or Turkey Soup.
Preheat oven to 450° F. Line a rimmed sheet pan with foil. Arrange turkey parts (you can use the gizzards as well if you like the flavor that adds), onion quarters and garlic halves on the tray in one layer. Liberally drizzle with olive oil and using your fingers spread the oil to coat everything. Roast until meat and vegetables are very brown, about 1 hour.
Transfer the contents of the sheet pan (drippings, liquid and all) to a large stockpot. Add the remaining vegetables to the pot. Add enough water to thoroughly cover all the meat, by about an inch. Bring the liquid to a boil, then reduce heat and simmer for 1 hour.
Remove as many of the meat solids and bones from the pot as possible, with a slotted spoon, then strain the liquid through a fine sieve (lined with cheesecloth if you want a more clear broth), and discard the remaining solids. (I save these solids and puree them and add them to my two dogs' food. Adds nutrition for them and less waste for me!)
Stock should be cooled completely to a minimum of 70°F before transferred into plastic containers or refrigerated. Can be stored in the refrigerator in airtight containers for up to 1 week, or frozen up to 3 months (mark with date.) If you do freeze stock, remember to leave enough room in the container for the liquid to expand while freezing or else you will end up with cracked containers and freezer burned stock. It's a good idea to freeze stock in 8-16 oz. containers so you access small amount of stock as needed.
Roasting The Turkey Breast (bone in).
Turkey breast has no fat to make it moist and tender, so brining, even for a short time, will give you juicier results. A simple brine is: 1 gallon of water, 1 cup of kosher salt, 1 cup of sugar, and a halved glove of garlic. Submerge the breast in the brine and hold for a minimum of a few hours or overnight in the refrigerator. When ready to roast, remove the breast from the brine, and pat dry with paper towels.
Season the remaining breast liberally with salt and pepper. On the bottom of your roasting pan place 3-4 whole carrots (horizontally across the pan), 2-3 celery stalks, and a quartered onion, using the vegetables to create a "rack" for your breast to sit on. Place the breast on the vegetables, so it is stable. Add a ½ cup of white wine to the pan, and ½ cup of water. Tightly cover and seal the roasting pan and it's contents with foil. Roast the breast in a 350° oven, calculating 20 minutes for each pound to fully cook it. About halfway through the cooking time, remove the foil and roast for the remaining time uncovered until the internal temperature of the middle of the breast reaches 155-158° F. Remove breast from oven and "tent" with foil, allowing it to rest and come up to 165°.
Recipe courtesy Rachel Willen of Food Fix.
Other Recipes That You Might Like