Tasting Table's Cherry-Cola Pops
Dessert For Your Inner Child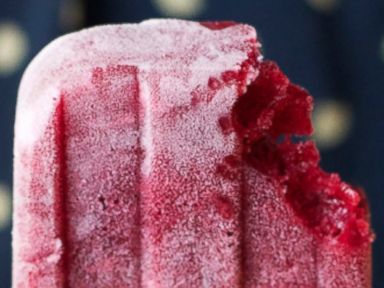 From the kitchen of Tasting Table
|
We all have fond memories of raiding the candy jar for our favorite sweets. But sometimes as adults, the bars we loved as children don't quite stack up to our more mature palate. For an even better experience, try making your own higher-quality version with TastingTable.com's recipe for Cherry-Cola Pops.
Ingredients
1 pound fresh sweet cherries (such as Bing or Brooks), pitted
1/2 cup water
1/3 cup granulated sugar
3 tablespoons fresh lemon juice
One 12-ounce can or bottle (1 1/2 cups) naturally sweetened cola
Cooking Directions
In a medium saucepan over medium heat, combine the cherries with the water and sugar and cook until the mixture just comes to a boil. Remove from the heat, cover and let the fruit steep for 30 minutes.
In a blender, puree the cherry mixture with the lemon juice and pour it into prepared molds until each is half full. Insert the popsicle sticks and freeze for 2 hours. Slowly pour the cola into each mold--filling them to the top--and freeze until set, at least 4 hours or overnight.
Note: These popsicles can also be made by mixing the cherry puree and cola together and pouring it into the molds to freeze in one layer. This technique works best for molds that have sticks attached to the lids.
Recipe courtesy TastingTable.com.
Other Recipes That You Might Like