Daphne Oz's 7 Grain Bread
There's Nothing Like Fresh Bread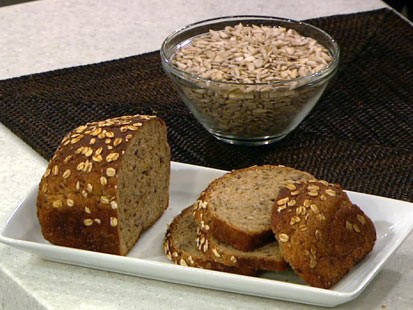 From the kitchen of Daphne Oz
|
Ingredients
4 cup 7 Grain Flour
1 cup Whole Wheat Flour
2 1/2 teaspoon Active Dry Yeast
1 1/4 teaspoon Sea Salt
1 Pinch Sugar
1 1/3 cup Warm Water (about 120 degrees F)
Cornmeal for dusting
Cooking Directions
Line a heavy sheetpan with parchment, dust with cornmeal.
In a large mixing bowl, combine the dry ingredients, and mix well.
Make a well, and slowly add the warm water. Mix slowly with a wooden spoon until a sticky dough forms.
Flour hands and remove dough from bowl and place on lightly floured work surface, knead until smooth. Cover the dough with a kitchen towel, and place bowl in a warm place and let dough rise until it doubles in size, about an hour.
Punch down and return to bowl and allow to rise another half hour.
Preheat oven to 425F.
After a half hour, punch it down again, knead slightly, and form into a ball. Place on cornmeal dusted parchment, and let rise until doubled in size, about 45 minutes.
Lightly dust the bread, and cut slits into top of the ball and place sheetpan into oven to bake for 25 to 30 minutes, until a deep golden brown. Let cool before serving.
Recipe courtesy The Chew
Other Recipes That You Might Like