Rocco DiSpirito's Chicken Parmigiana
Low fat, low calories, great taste!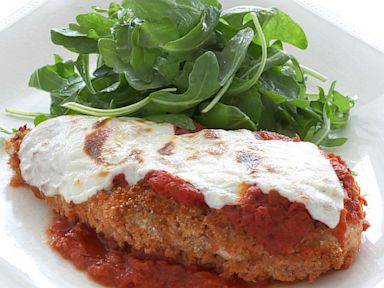 From the kitchen of Rocco DiSpirito
|
A low fat, low calorie treat.
Ingredients
¾ cup whole wheat panko bread crumbs
Salt
Freshly ground black pepper
4 large egg whites
2 (8-ounce) boneless, skinless chicken
breasts, cut in half lengthwise
Olive oil cooking spray
2 cups no sugar added marinara sauce,
such as Trader Joe's
4 cups arugula
½ tablespoon red wine vinegar
4 ounces fresh mozzarella, cut into 8
even slices
1 ounce Parmigiano-Reggiano, grated
Cooking Directions
Preheatthe broiler.
Position a rack in the middle of the oven, about 18 inches from the bottom of the heating element. Line a baking sheet with aluminum foil and place a wire rack on top.
Place the bread crumbs in a shallow broiler-proof baking dish and season with salt and pepper.
Beatthe egg whites in a large bowl until foamy. Season the chicken with salt and pepper. One cutlet at a time, coat the cutlets with egg white, then move each cutlet to the bread crumbs and coat it evenly. Coat the chicken with four seconds of cooking spray and place each cutlet on the rack. Place the cutlets under the broiler and cook until browned on one side, about eight minutes. Then flip the cutlets over and brown the other side.
Bring the tomato sauce to a simmer in a large saucepan.
Place the arugula in a chilled bowl. Dress with vinegar and season with salt and pepper.
Remove the chicken from the broiler and place it in a large ovenproof skillet. Top each cutlet with tomato sauce and two slices of mozzarella.
Return the cutlets to the broiler and cook until the mozzarella is melted. Remove from the broiler and sprinkle the Parmigiano evenly over the chicken.
Divide the chicken and salad among four plates.
Another version of this dish has 49 grams of fat and 1,090 calories. Rocco's version has 11 grams of fat and 324 calories.
Recipe courtesy "Now Eat This! Italian: Favorite Dishes from the Real Mamas of Italy--All Under 350 Calories."
This recipe was styled by chef Karen Pickus for "Good Morning America."
Other Recipes That You Might Like