Dan Whalen's Chicken-Stuffed Waffles
Waffle Wins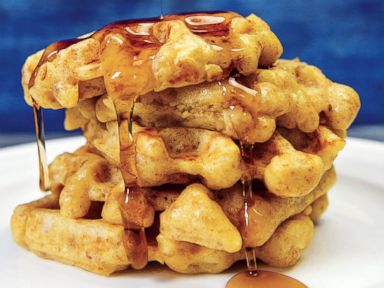 From the kitchen of Dan Whalen
|
Your waffle iron is capable of so much more than you give it credit for. Let the appliance prove its worth with these chicken-stuffed waffles from Dan Whalen.
Ingredients
For the filling:
1 pound chicken tenders
Salt and pepper
Oil
1/2 cup panko breadcrumbs
For the waffle batter:
1 cup flour
1/3 cup cornstarch
1/2 teaspoon baking powder
1/4 teaspoon baking soda
1/2 teaspoon salt
1 teaspoon sugar
1 1/2 cups buttermilk
1/3 cup unsalted butter, melted
1 egg
1 tablespoon Tabasco sauce
Maple syrup, for serving
Cooking Directions
Make the filling: Season the chicken with salt and pepper and sear in a hot pan with a splash of oil. Cover and turn the heat down to low. Cook for about 10 minutes, until cooked through. Remove from the heat. Roughly chop half the chicken and shred the other half.
Lightly toss the breadcrumbs with 1 Tbsp. or more of oil. Spread on a baking sheet and broil until browned, about 3 to 5 minutes. Watch closely and stir once during cooking so everything can toast evenly without burning.
Make the waffle batter: Mix all the waffle ingredients in a large bowl, starting with the dry ones, followed by the wet ones. Whisk to combine, but don't worry about it getting fully incorporated. There will be lumps.
Fold the chicken and breadcrumbs into the waffle batter.
Preheat the waffle iron. Ladle the waffle batter into the waffle iron and cook according to the manufacturer's instructions. Serve with maple syrup.
Recipe courtesy Dan Whalen, author of Stuffed: The Ultimate Comfort Food Cookbook: Taking Your Favorite Foods and Stuffing Them to Make New, Different and Delicious Meals.
Other Recipes That You Might Like