Gail Simmons' Chicken & Vegetable Sandwich Rolls
Back-to-School Bites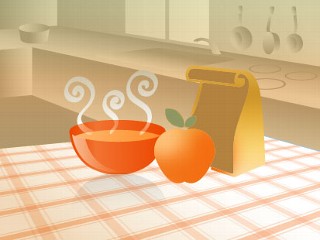 From the kitchen of Gail Simmons
|
Kids across the country are heading back to school, and with that comes the return of packed lunches. It can be tiring to come up with nutritious and delicious options day after day, so Food & Wine special projects director Gail Simmons shared some of her creative ideas to keep it fresh on "Good Morning America." Try her recipe for Chicken & Vegetable Sandwich Rolls below.
Ingredients
2 long slices of sandwich bread, cut lengthwise from a whole loaf
1 roast chicken breast, shredded
1/2 cup shredded carrots
1/2 cup shredded cucumber
1/2 avocado, thinly sliced
6 slices cheddar or Havarti cheese
1/4 cup hummus (substitute mustard or mayonnaise if desired)
Cooking Directions
Lay one slice of bread on a cutting board. Using a rolling pin, flatten the bread so it's thin but will roll without tearing. Spread 2 tablespoons hummus (mayo or mustard) over the bread, leaving a 1/4-inch border around all edges. Place 3 cheese slices in a layer over the hummus, overlapping slightly. Arrange half the shredded carrot, cucumber, avocado and chicken along the length of the bread closest to you, leaving about 2 inches at each edge. Starting at the long edge with the filling, carefully roll the bread tightly around the ingredients into a spiral. Press gently to make sure bread is sealed and secured. Cut sandwich crosswise into 1-inch "sushi" pieces to serve. Repeat with second slice of bread.
Variations: peanut butter, sliced banana (sliced lengthwise), and coconut flakes, drizzled with honey; roast beef, lettuce, horseradish-mayo spread; cream cheese, smoked salmon, tomatoes and dill.
Other Recipes That You Might Like