BuzzFeed's Chili Mac & Cheese Fries
"GMA's" Food Mix and Mash-Up!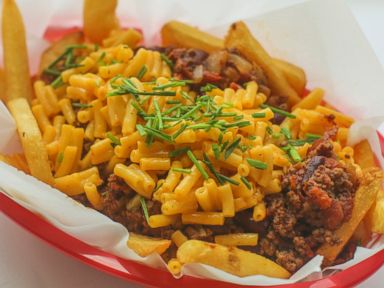 From the kitchen of Rachel Sanders
|
Frankenfood mash-ups such as the Cronut, ramen burger and quesarito are all the rage right now -- and we can't get enough! We challenged BuzzFeed's food editors to create the wackiest, most out-there food creations possible, and the results are insanely delicious. Try one of their crazy creations with the below recipe for Chili Mac & Cheese Fries.
Ingredients
For the Chili:
1/2 lb ground beef
1/2 onion, chopped
1 garlic clove, minced
1 tablespoon chili powder
1/2 teaspoon kosher salt
1 teaspoon powdered cumin
1 teaspoon dried oregano
one 15-oz can kidney beans, drained and rinsed
one 15-oz or two 10-oz. cans diced tomatoes with green chiles
For the Fries + Assembly:
2 bags (about 50oz) ready-to-bake frozen French fries
1 box stove top mac & cheese (Annie's or Kraft)
1 tablespoon minced fresh chives (optional garnish)
Cooking Directions
Preheat oven to 450 degrees F (or to the temperature recommended in instructions on frozen fries).
Make the chili: Heat a medium saucepan over medium-high heat. Add beef, onion, and garlic and saute, breaking up with a wooden spoon, until the meat is browned and the onions are soft. Stir in chili powder, cumin, oregano and salt and cook for another minute. Add beans and tomatoes, stir well, and bring to a boil. Cover, reduce heat to medium-low and simmer for about 30 minutes, stirring occasionally.
Make the fries: While chili cooks, bake frozen fries and prepare macaroni and cheese according to package instructions.
To serve: Divide fries between dishes or baskets lined with waxed paper. Spoon chili and mac and cheese, to taste, over fries. Garnish with chives. Serve with forks (you'll need them).
Other Recipes That You Might Like