Emeril Lagasse's Chocolate French Toast with Strawberry Syrup
Heavenly Holiday Breakfast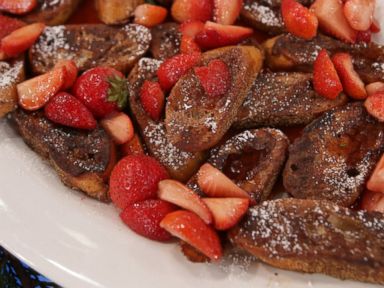 From the kitchen of Emeril Lagasse
|
Christmas morning can get busy between gift opening and testing, but don't let breakfast be an afterthought. Celebrity chef Emeril Lagasse shared his kicked-up holiday breakfast recipes on "Good Morning America" to make your holiday as delicious as possible. Try his recipe for chocolate french toast with strawberry syrup below and turn your morning meal into the star of the show.
Ingredients
1/2 cup light corn syrup
1/4 cup sugar
1 teaspoon cinnamon
1/2 teaspoon nutmeg
1 pound fresh or unsweetened frozen strawberries, quartered
4 eggs
1/2 cup plus 2 tablespoons sugar
2 tablespoons plus 2 teaspoons Dutch process cocoa powder
1/2 cup plus 2 tablespoons whole milk
2 teaspoons vanilla extract
12 slices French bread (sliced on bias 1/2-inch thick)
3 tablespoons unsalted butter, for cooking
Lightly sweetened whipped cream, for serving
Confectioners' sugar, for sprinkling
Cooking Directions
Make strawberry syrup: In a medium saucepan combine the corn syrup, sugar, spices and strawberries. Bring to a boil over medium heat, stirring often. Lower heat to simmering and cook until a thick and syrupy consistency is reached, 10 to 12 minutes. Keep warm.
Make chocolate french toast: In a large shallow bowl whisk the eggs. In a small bowl combine the sugar and cocoa powder until well-blended and whisk into eggs. Whisk in the milk and vanilla.
Heat a large sauté pan, preferably nonstick, over medium-high heat. When hot, add 1 tablespoon of the butter. Working quickly, dip 4 of the bread slices in egg mixture until moistened but do not allow the bread to sit in the egg mixture. Transfer the coated bread slices to pan and cook until golden brown, 2 to 3 minutes per side, turning once. Transfer to a warmed plate. Repeat with remaining bread slices. To serve, drizzle with the strawberry syrup, top with a dollop of whipped cream, and sprinkle with confectioners' sugar.
Recipe courtesy Emeril Lagasse, courtesy Martha Stewart Living Omnimedia, Inc.
This recipe was styled by chef Karen Pickus for Good Morning America.
Other Recipes That You Might Like